By Amanda Beaty
Homeschoolers often classify themselves under different methods, and if you are new to the whole idea of homeschooling you might be confused by some of the terms you will hear (school at home/textbook-oriented, classical homeschooling, eclectic or relaxed homeschooling, online or virtual school, unit studies, Waldorf, Montessori, Moore Formula, Charlotte Mason, unschooling).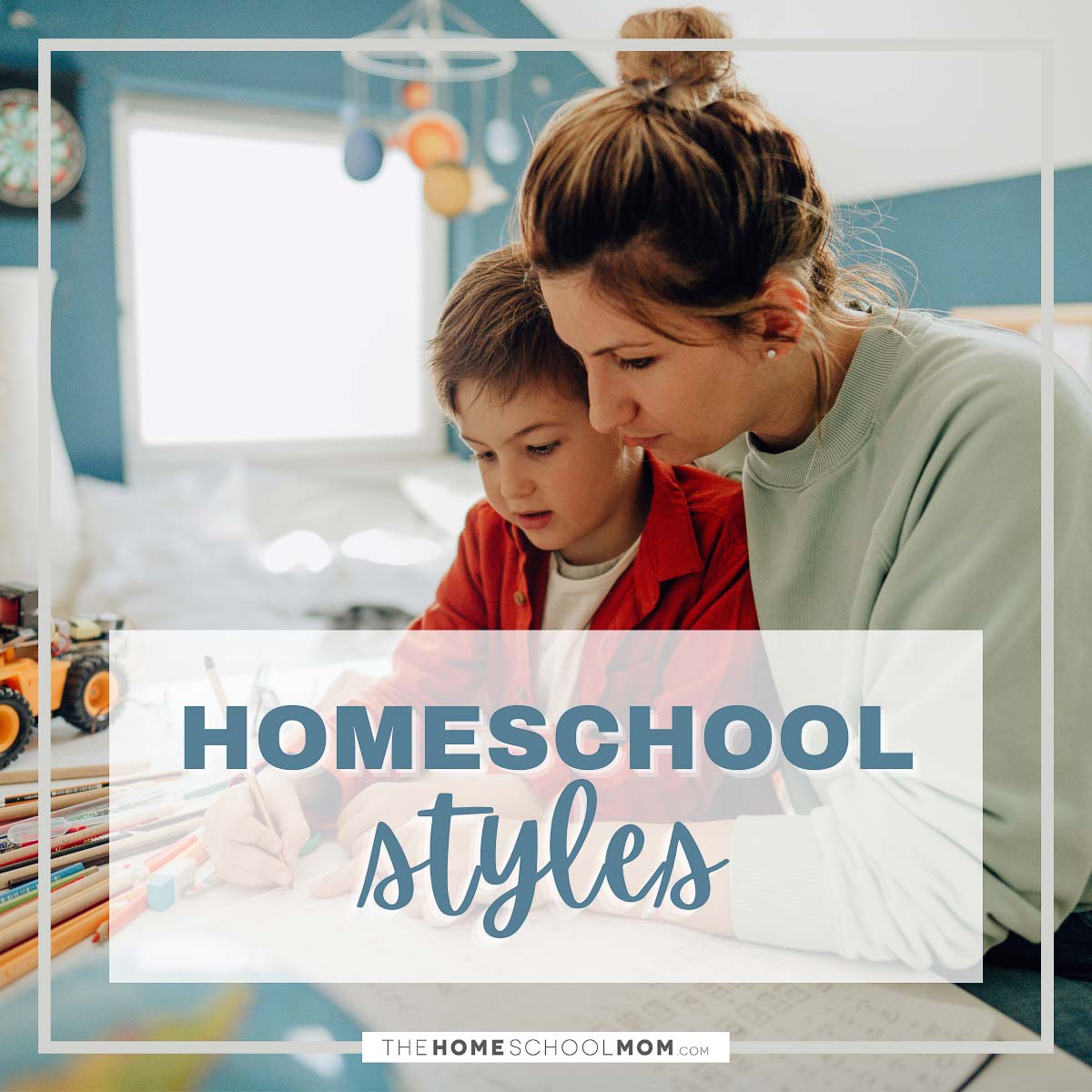 Jump to:
When you mention homeschooling, many people instantly imagine denim jumpers, large families, and kids sitting around the kitchen table with textbooks all day. The reality is a little more... realistic. There are endless ways to homeschool, as well as countless reasons to do so. There definitely aren't any typical homeschool families. Unless "different" counts as "typical."
There are several popular homeschool styles. Many families opt for eclectic homeschooling, which is a fancy way of saying they cobble together parts of several styles that work for their family. Families who homeschool for more than a couple of years will often work their way through several of these methods.
School At Home
School-At-Homers are the homeschoolers most people use for their stereotype. Families may complete curricular lessons at the kitchen table, or they may even have a separate classroom, with desks or a long table at which the students do their work. They use a full curriculum, typically purchased from one of the many companies that cater to homeschool families, or sometimes as part of an online program, either through a public school (more on this below) or privately purchased. More school-at-homers are moving to computer-based curricula, but many still rely on textbooks for at least one subject. They may schedule one day a week or month as field trip day or park day, but they're pretty committed to a typical school-day schedule, and have a plan for what they want the kids to learn and get through during the school year.
One variation to this is block scheduling: Working on one subject each day rather than switching between several subjects every day. This works well for kids on the autism spectrum who may have trouble transitioning. We went from 7-8 hours a day to 3-4 hours a day, just by using block scheduling. He still got as much done each week, but in half the time.
Online (or Virtual) Public School
These students are not homeschoolers in the legal sense because they are enrolled in a public school, but I'm including it here because a growing number of families in the homeschool community are actually part of the virtual public school system.
They want the freedom of having their kids at home, but want or need the oversight and accreditation provided by a state-run school. Instruction takes place in the home, either through computer lessons or via textbooks, typically a combination of both. Lessons may be completely online and somewhat self-paced or taught by a teacher through Skype or a similar method.
Online schooling is a complex system that parents should investigate and understand if they are considering one of these programs.
Unit Studies
A unit study incorporates multiple subjects using one theme. The theme can be a historical event, a holiday, a location, a person, or pretty much anything (some families use our teaching calendar to create mini unit studies). The students learn about the theme using different resources and hands-on activities.
Unit studies are popular with Delight-Directed Learning (also called Interest-Led Learning), where students look at many subjects within the context of a specific topic.
Classical
Classical education is based on a three-part process: Grammar, Logic, and Rhetoric. Some homeschool programs combine a biblical Christian perspective with the standard classical stages to create a unique trivium approach.
In the Grammar stage, you lay the groundwork; learning how to learn. The Logic stage begins around fifth grade and focuses on reasoning and analytical thinking. High school students move into the Rhetoric stage, which applies the rules of logic to the foundation of skills learned at the younger ages.
A classical education is language-based, rather than hands-on or video-based like many of the other homeschooling styles.
Montessori
Traditional Montessori education—based on the teachings of Maria Montessori—relies on multi-age groups, as well as a Montessori-trained teacher, among other components, but a family can implement Montessori principles into their homeschooling.
Montessori uses uninterrupted blocks of time, real-world activities, and choice of a pre-selected set of work centers. Montessori is a holistic learning method that incorporates a full-sensory experience and emphasizes letting children use real tools rather than toys (such as letting him help in the kitchen rather than giving him a play kitchen set).
Waldorf
Like Classical education, Waldorf is divided into three stages based on developmental appropriateness. Music plays a significant part in a Waldorf education, and technology is not used until the high school years.
Moore Formula
Raymond and Dorothy Moore are often called the grandparents of the homeschool movement. Their Moore Foundation has been providing support and guidance for parents for many years. The Moores are best known for their theory that formal school is better started later than early, with very little or no formal schooling taking place before age 8.
Charlotte Mason
Charlotte Mason preferred "living books" over textbooks, and believed that children were whole people who should be treated as if they are capable of understanding the world around them.
This method focuses on establishing positive habits, short age-appropriate lessons, narration to teach the child to think clearly, dictation - particularly Scripture - to teach spelling and grammar, art and music, and nature study.
Relaxed
Relaxed or eclectic homeschoolers tend to worry less about schedules and milestones. They may still use packaged or computer-based curriculum but usually for only one or two subjects, and they may not be as concerned about working on every subject every day.
For whatever reason, math is usually the one subject that keeps relaxed homeschoolers from becoming unschoolers. I call myself an unschooler-wanna-be because we do work on Khan Academy, although we don't do it every day, and I don't focus on what "level" they're on. Except when my 6-year-old moves up to third grade. I do enjoy a proud mama moment. Who wouldn't? But I don't push him.
Khan Academy is a pretty good one-stop shop for relaxed homeschoolers. The focus is on math, but they have added science and history videos. Best of all, it's free. It's basically the worst-kept secret in homeschooling.
Outsourcing
Some parents want to homeschool and outsource. That is, you want to direct your child's education, and you want it to be a home-based education, but you also want to outsource all or parts of that education.
With outsourcing, it is possible to manage your child's education without actually teaching every subject yourself. This option overlaps with the styles described above, since each outsourced program will have its own style.
Outsourcing homeschooling could mean a student using a comprehensive online program for all courses (this may or may not fall under homeschooling depending on the program and the state statute), or it could mean picking and choosing specific outside programs for each subject. For example, a high school student could take a portion of their courses through a local community college, or a student might take science courses at a co-op, second language courses with a tutor, literature courses in a book club setting, and math courses online.
Outsourced homeschooling is flexible, allowing parents to choose programs cafeteria-style or outsource the entire course load to a single program.
Unschooling
If you ask twenty unschoolers to define unschooling, you may get twenty different definitions. For the purposes of this post, I'm going to define it as, "completely child-led learning." The parent is merely the facilitator. That doesn't mean parents aren't involved. Quite the contrary; unschooling often takes as much time and effort as the school-at-home method.
Unschooling operates on the premise that we are naturally curious, and children don't have to be forced to learn. We learn all day, every day, and if we allow ourselves to follow our interests, there is a never-ending web of knowledge out there just waiting for us. And "us" includes our kids. Unschooled kids may spend hours playing video games, and they may just as likely spend hours reading or building something or playing outside.
Some unschoolers subscribe to the idea that no classes are acceptable, but for the most part, unschoolers will enroll their children in classes that match the students' interests.
Sometimes, the student has even searched out the class on his own. But enrollment is always with the child's consent, because the basic idea of unschooling is that the child is in charge of her own education. Not alone—never alone—but she's driving. And not only do the kids learn more than we can imagine when left to discover on their own time, they do so with an enthusiasm that's amazing to observe.
You can learn more about each of the styles at the links below. No method will work for every child, and one method will sometimes not work for a student's whole academic career. Knowing there are multiple approaches can help alleviate the panic that can ensue when the current homeschool style isn't working.