Jump to: Homeschool Co-ops | Homeschooling Classes & Academic Enrichment
Looking for someone to teach physics to your teen? Need a way to avoid teaching algebra? Want to enroll your Kindergartener in a co-op for social time? Homeschool classes and co-ops are a great way to spend time with other homeschoolers and skill-share with other homeschool parents.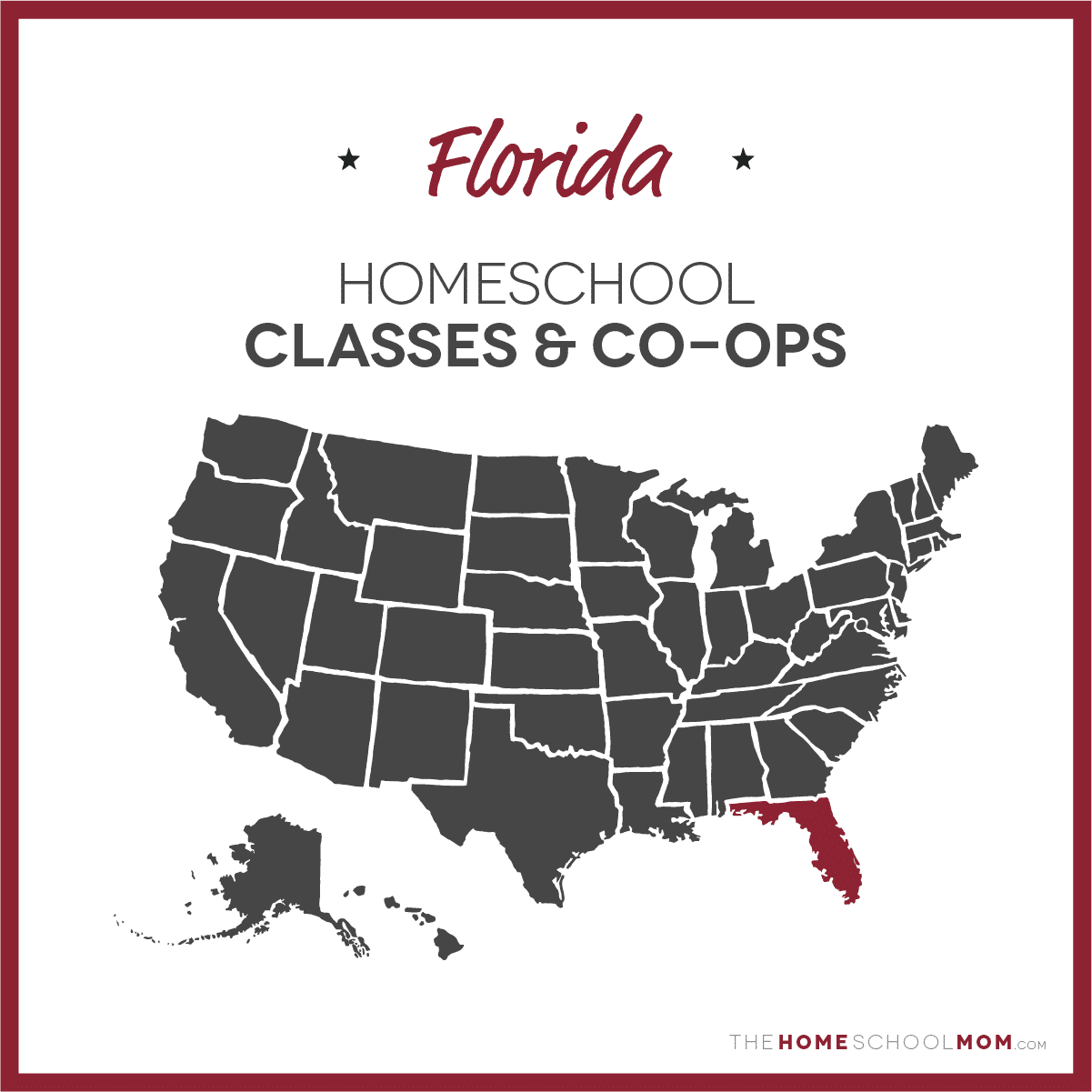 Submit a Local Resource
Our listing of Florida co-ops and academic classes for homeschoolers is ordered alphabetically by city, with co-ops in the first section and all other academic resources below. If you would like to submit a Florida co-op or academic resource, you may do so using the red button above.
Florida Homeschooling Co-ops
FISH HomeschoolBrandon
FISH is a Christian homeschool ministry in Brandon, FL. They offer: Family and age-specific fellowship/events Competitive sports for 4th-8th grade Competitive sports for high school Mom's encouragement nights Field tr...
JMJ HernandoBrooksville
JMJ Hernando is a Catholic homeschooling community established to bring families together weekly throughout the school year. Our mission is to support homeschooling moms by providing educational, social and faith enri...
PATH Parents' Association for Teaching at HomeCoral Gables
P.A.T.H. Inc. is a secular, non-profit homeschooling co-op and support group run by parent volunteers. We collaborate to support families in Miami-Dade County who have decided to educate their children at home. All ho...
Calvary Homeschool Co-opDade City
Calvary Assembly Home School CO-OP is operated out of Calvary Assembly of God Church. Membership is contingent on accepting the Statement of Faith, the Guidelines, and the Procedures & Code of Conduct.
Covenant Light Private School & Co-opEustis
Covenant Light Private School is a non-traditional private school for homeschool families living in Lake County, (and surrounding areas) in Florida. CLS has been providing services to homeschooling families since 1992...
Mod Pod Homeschool Co-opEustis
The Mod Pod is a community of homeschool families committed to academic rigor, personal expression, and community service. We offer a variety of services and supports for our families including, classes for grades k-9...
Allendale AcademyFlorida Statewide
Allendale Academy is a homeschool umbrella virtual private school registered with the Florida Department of Education (FL ID 523109). Allendale Academy provides transcripts, diplomas, college and scholarship applicati...
Agape SchoolhouseFort Myers
Welcome to Agape School House! We would love to support your homeschool family using a Christian, classical model of education. We offer classes from 1st grade through 12th grade. We offer 4 classes once a week. For o...
Axis Homeschool GroupGroveland
Axis is a ministry of South Lake Christian Church in Groveland, Florida. We offer group support and encouragement to our community of homeschoolers through field trips, educational events, social events, workshops, cl...
Academy of Christian EducationHollywood
Academy of Christian Education is committed to serving students and families in the homeschooling community by providing excellence in Christian education. We meet every Monday & Thursday from 9am - 4pm At Hollywood H...
Citrus County Christian Homeschool Group, Inc. (CCCHG)Iverness
Citrus County Christian Homeschool Group is a Not-For-Profit Corporation Registered with the State Of Florida. Each year we have a spring and fall term, which run independent of each other. Each term has between 10-12...
CrossPointe Co-opJacksonville
We are an academic based, Christian co-op, grades Kindergarten to 12th located in Jacksonville, Florida. We offer nursery and preschool for our participating families. Each mom co-teaches a class and serves on a commi...
Mandarin Christian HomeschoolersJacksonville
Mandarin Christian Homeschoolers exists to provide fellowship to families both within and outside of the church community who have chosen to home educate. We accomplish this through park days, field trips, social even...
Free Range Learning CooperativeJacksonville
Free Range Learning Cooperative is a secular homeschool co-op serving families in Jacksonville and surrounding areas since 2012. This group meets weekly on Tuesdays for classes and a once-monthly Field trip. They offe...
Journey Into LearningJupiter
Our Direction: To provide quality classes that will be enriching the students' education, while establishing relationships that will further each family's homeschooling process. This will be an Enrichment Learning Co-...
Grace Home SchoolersLongwood/Seminole County
Grace Home Schoolers, Inc began in 1988 by Bible-believing evangelical Christians who desired to serve the Lord Jesus Christ while teaching their children at home. They are a support group existing to encourage home e...
Blue Springs EnrichmentMarianna
BSE classes are a cooperative effort among several families to supplement their children's home education by working together on subjects that are difficult to teach at home or best taught in group settings.
Sancta Familia Home AcademyMelbourne
SFA is a private school in Melbourne, FL with a classical curriculum, serving full-time students and homeschoolers of Brevard county in grades K-12.
P.A.C.E.Miami
P.A.C.E. of Miami Enrichment meets at Glendale Baptist Church, 14580 SW 117 Avenue, Miami, every Friday (only 1 day per week) during the school year. P.A.C.E. offers a variety of classes, most lasting 55 minutes, for ...
C.H.R.I.S.M., Catholic Homeschoolers Renewing Individuals' Sacred MissionMiami
C.H.R.I.S.M., located in Miami, Florida, was created to provide an enrichment co-op to families who have chosen to home educate their children in a structured, entirely Catholic environment. We hope to offer support, ...
Growing Great Minds, (GGM) Co-opNew Port Richey
GGM Co-op seeks to offer a quality hands on classroom experience from highly academic to extracurricular. Growing Great Minds Co-op serves home schooling families serving Pasco, Pinellas, and Hernando counties.
Lighthouse Christian Homeschool AcademyNew Port Richey
A homeschool co-op providing cafeteria style academic and enrichment classes for students in Pre-k through High School, including classes eligible for High School credit. Classes are offered face to face in person onc...
Inclusive Learning CooperativeOkaloosa county
Inclusive learning co-op is a local secular NPO. We are a resource for homeschooling families, that have developmental disabilities, to have a safe space for their children to learn and grow while exploring their inte...
Watermark Homeschool EnrichmentOrlando
Watermark Homeschool Enrichment provides classes to enrich your homeschool journey. Parents are not required to teach, but classes - from Robotics to sign language to musical theater and dance (and more!) - are taught...
The Christian Academy of the Palm BeachesPalm Beach Gardens
K-12 Christian-based program in an environment that encourages the preservation of innocence and wonder of childhood. Guided by classical-with-a-twist, hands-on learning, the faculty inspires students to think creativ...
Salt Homeschool ConnectionPalm City
Salt Homeschool Connection operates under Christian principles, and strives to minister to families with support and encouragement living in Saint Lucie and Martin counties. The co-op strives to help parents find the ...
HOP - Homeschoolers of PinellasPalm Harbor
A secular homeschool cooperative offering classes in Pinellas county; currently in Palm Harbor, FL.
Fairfield Homeschool Co-opPensacola
Welcome to Fairfield Co-op! We are a small group of Christian families who have come together since 2009 to supplement our home studies encouraging, supporting, and learning together. We rely on each other to step int...
Mid Pinellas Learn and PlayPinellas County, Clearwater, Largo, Seminole, St Petersburg, Pinellas Park
Mid Pinellas Learn and Play is based in Pinellas County. We have several semesters throught the year including the summer. Students of all ages and abilities are welcome. There are crafts and a new topic for discussio...
Chosen Co-opPinellas Park
Chosen Homeschool Co-op is a ministry of Calvary Chapel St. Petersburg that provides elective style classes to supplement the educational programs of homeschool families in our area. This Christ-centered homeschool co...
Olivet Private SchoolPort St Lucie
Olivet Private School is a K-12 school registered since 1982 according to the Florida Statutes as a 617 (non-profit, private) school. Years of experience and continued training provide members with a secure environmen...
Flame Wes-ComRoyal Palm Beach
A Christian Home Education Cooperative for the Western Communities. Flame Wes-Com is a Christ-centered, family oriented cooperative learning program with classes taught by participating parents. Each family is expecte...
Sarasota Cooperative Learning ProjectSarasota
The Sarasota Cooperative Learning Project is a secular, inclusive and diverse homeschooling/unschooling cooperative open to all families. The cooperative meets on Mondays for two 8 week semesters, fall and spring. Off...
Heartland Homeschool Learning CenterSebring
The Heartland Homeschool Learning Center is a cooperative organization that is able to offer low cost family memberships in return for volunteering to teach classes or donating other in-kind services. We are able to o...
Grace Life Homeschool CommunitySeminole
Grace Life is a Christian homeschool co-op and community. We want to build a loving community of parents and children, and have our children benefit from quality and enjoyable classes. We meet Thursdays in the Largo/S...
A Legacy Classical AcademySorrento
Two full days of creatively taught classes enriching your classical curriculum for 3rd through 7th grade students. All subjects will be taught by passionate Academic Mentors.
Homeschoolers By The SeaSt Johns, St. Augustine
An intimate group of 10-15 families in our co-op with a maximum of 40 children. Our children enjoy close friendships with a small group of children. Our co-op offers a nursery for infants and young children. The 4-6 y...
St. Augustine, FL Chapter – Catholic SchoolhouseSt. Augustine
Catholic Schoolhouse is a supplemental program designed to help homeschool families enrich their educational experience through a flexible approach to learning inspired by classical elements, presented in a structured...
Tampa Bay Community HomeschoolTampa
We are a two day faith based hybrid homeschool co-op program offering classes for children in grades 4th through 5th. Every child is unique, each having different God given gifts. We all learn differently, and learnin...
Tampa Covenant HomeschoolersTampa
Tampa Covenant Homeschoolers, Inc. is a non-profit serving homeschool families in the Tampa Bay Area. We provide classes, field trips, parent education, special events, family support, and more.
THINK Tampa HomeschoolersTampa
THINK membership is open to all homeschooling families who share the mission stated below and want to network with other like-minded families: To provide an environment for homeschooling families to share educational ...
Victorious Homeschoolers Cooperative (VHS)Tampa
Victorious Homeschoolers Cooperative (VHS) is a Christian faith based, nonprofit organization. VHS was formed for the purpose of giving children the opportunity to interact with other homeschooling families in a class...
Willow Creek Home EducatorsWinter Springs
WCHE, a ministry of Willow Creek Church in Winter Springs, FL, initially began as an outreach to its families, but has now grown to include families from all over the Central Florida area. Some of our members are new ...
Florida Homeschooling Classes & Academic Enrichment
24/7 Learning AcademyAltamonte Springs
Private school and online learning center offering project-based learning, personalized instruction, homeschool curriculum, and flexible programming for ages 11 through 19. Offering the following homeschool services: ...
SALT AcademyBoca Raton
Boca Raton based Private school designed for parents who want their children to have the benefits of home education with the advantages of enrollment in a private school setting.
Parliament Tutors in Boca RatonBoca Raton
Parliament Tutors is a private tutoring and test preparation service covering all academic subjects, homeschool subjects, and standardized tests.
Chemistry Star TutoringBoca Raton
Chemistry Star Tutoring offers one-on-one tutoring, small group instruction, and online sessions by a caring, dedicated, Florida certified educator with 14 years of experience teaching in South Florida. With a high re...
Florida Reading NinjaBradenton
Is your child needing a little extra boost in reading? Do you have a child that is falling behind in their reading levels? I am a certified teacher with 18 years of experience. I hold a Master's degree in Reading Educ...
Pizza workshops field trip for kidsBradenton/Sarasota
Schedule a Pizza Workshop Field trip for your kids at 1000 Degrees Pizzeria. Kids will have hands on experience to stretch their own pizza and make their own pizza. Kids will have the opportunity to learn about our do...
Classical Conversations of BrandonBrandon
For more information about Classical Conversations, please contact our local Support Representative, Wendy Kruse, at wendyakruse@gmail.com
Tampa Bay HEATBrandon
The Tampa Bay HEAT offers sports, classes, field trips, events and FUN for Pre-K through high school.
Brevard Homeschool EvaluationsBrevard County
Looking for some local help to start homeschooling? Need an evaluator who can meet you "virtually" or in-person? Here is a homeschool mother of seven who provides coaching, mentoring, tutoring, and evaluations for hom...
JMJ HernandoBrooksville, Hernando County
We are a Catholic homeschool support group. We meet weekly, have classes such as choir, violin, art, dance and gymnastics. The focus is on supporting the homeschooling parent while strengthening our faith and allowing...
Mathnasium of Cooper CityBroward
Specially trained math instructors will teach your child how to understand math in an individual setting. Their unique approach enables them to effectively explain math concepts and lend a helping hand to every studen...
Young Politicians ClubBroward County
The Young Politicians Club is a student club that largely consists of home-school and online school students. Based in Broward county but serve students across Florida. The Young Politicians Club seeks those between t...
Science EyeBroward County, Palm Beach County, Miami-Dade County
Science Eye offers unique, educational programs and resources for teachers, home schoolers, organization and clubs. Our Field Studies and In-school Safaris are engaging, hands-on, inquiry-based programs that enable st...
Sacred Heart of Jesus Private SchoolCape Coral
The Sacred Heart of Jesus Private School was established in 1994 by a group of Catholic homeschooling families desiring fellowship and support for the unique needs of Catholic homeschoolers. We are a non-traditional p...
CogniTutorCentral Florida
This resource is for students that are in need of extra educational services for tutoring. This company offers individuals tutoring in all subjects areas, standardized test preparation (SAT, ACT, and more), music inst...
Gulf Coast Classical AcademyClearwater
Gulf Coast Classical Academy is a full-time K-8 school located in Clearwater, FL. The school offers Teacher-led instruction in a traditional classroom implementing Memoria Press' Classical Latin-centered Christian cor...
The Moccasin Lake Environmental Education CenterClearwater/Tampa Bay
Moccasin Lake is a 51-acre nature preserve with trails and boardwalks under a canopy of mature oaks and across ponds and creeks, with an array of wildlife including gopher turtles, raccoons, and many birds. It is home...
Tracey's Reading InterventionClermont / Central Florida
I am a reading interventionist that is certified in Florida and Alabama. I have over 20 years' experience in reading intervention. I work with all types of readers, I help children that are struggling, that need help ...
Bloom Homeschool SupportClermont/ Lake & Orange County
Bloom provides complete support to homeschoolers; tutoring, evaluations, testing, advising, transcripts, and test prep... Just about anything you need! It is also a great place to get referrals and recommendations for...
The Study LoungeDelray Beach
The Study Lounge offers a safe setting for students with UVC light fixtures, plexiglass in seating areas, and mandatory masks. Floor tutors specializing in all subjects are on hand for academic support Monday - Friday...
Community Bible StudyFernandina Beach
Registration is now open for Community Bible Study programs for preschool to high school Register ameliaisland.cbsclass.org September 7 classes begin at our location on Amelia Island near Harris Teeter. Age appropriat...
Atrium SchoolFlorida Statewide
Academic Excellence at Home, the Atrium School is an umbrella school for homeschoolers in Florida.
Oaks Private SchoolFlorida Statewide
The Oaks Private School provides Florida's homechooling families with academic, administrative and legal covering. Phone:1.866.798.TOPS
Sunshine Homeschool EvaluationsFlorida Statewide
Offering professional and hassle-free CYBER portfolio evaluations for Florida homeschooling families.
Florida Classical ConversationsFlorida Statewide
CC is a national homeschooling program that uses a Bible based curriculum taught in a christian, classical tradition. Classes are geared for age 4 through high school.
Compass Outreach and Education Center - Hybrid HomeschoolFort Lauderdale
Private K-5 Hybrid Homeschool Option - This Hybrid Homeschool program provides parents with the opportunity to have the best of both worlds. Families are able to expose their children to a traditional school setting w...
EscapologyFort Lauderdale
Come check out a great team-building and social development opportunity here at Escapology! Students will work with their group to solve puzzles and riddles to ultimately escape the room. Escapology is the only KID-FR...
Sylvan Learning Center - Fort MyersFort Myers
Customizes tutoring plans based on your child's unique learning needs and academic goals.
FAU Harbor Branch Science SaturdaysFort Pierce/St Lucie County
Join us each month at the Ocean Discovery Visitors Center for this fun-filled, outdoor event. Bring the whole family and learn from our experts while participating in a variety of exciting, interactive activities! Sci...
Math TutorFort Walton Beach
Private Math Tutor, Ashley Theobald holds a Master's degree and can offer great local references. All levels of math from basic arithmetic to Calculus for all ages, including adults. Schedule your first pilot lesson n...
Genesis Family Enrichment Center, IncGainesville, Trenton, Lake City, Palatka, Ocala, Starke
Genesis Family Enrichment Center provides Trust Based Relational Intervention training and workshops to parents, caregivers and organizations. It is a trauma-informed, attachment centered and evidence-based interventi...
PK-12 Virtual Academy TutoringHollywood/Davie
Personalized tutoring at all grade levels. Offering SAT, ACT, FSA, and EOC prep.
Spring RiverJacksonville
Located in Jacksonville Beach, Florida, Spring River Homeschool Program recognizes the natural curiosity of children and provides a learning atmosphere to grow and prosper through developmentally appropriate explorati...
Providence Extension Program (PEP) FloridaJacksonville
PEP provides an academically rigorous education combining the best of classical and biblical worldview education that meets two days a week at campuses in Florida. There are currently two campuses in the Jacksonville ...
Loggerhead Marinelife Center - Educator's PortalJuno Beach
As a water conservation hub, Loggerhead Marinelife Center offers FREE educational resources for educators. All activities, quizzes, and resources are STEM-based and meet Palm Beach County School District requirements....
Loggerhead Marinelife Center Homeschool WorkshopsJuno Beach
Step into the shoes of a Marine Biologist through Loggerhead Marinelife Center's homeschool workshop series exclusively for homeschool students! Students will be immersed in marine science through hands-on lessons in ...
Loggerhead Marinelife Center Coastal ClassroomJuno Beach
Loggerhead Marinelife Center now offers private workshops exclusively for homeschool groups! Book a virtual or in-person (15 student maximum) workshop for your homeschool group today! These workshops are for students ...
ASCEND ProgramJupiter
ASCEND is a community engagement group at FAU that promotes interest in Science, Technology, Engineering and Math (STEM) through neuroscience activities. We hold day-long sessions called Brain Sparks to get middle sch...
The Andersen Academy, LLCJUPITER
The Andersen Academy is a full-time, middle school pod in Jupiter, FL. We are run by certified teachers with 17-25 years experience. Our small groups focus on educational rigor as well as the student's emotional needs...
US Naval Sea Cadet CorpsKey West
The US Naval Sea Cadet Corps is a program ideally suited for homeschool students. It provides many of the benefits and experiences of a JROTC (Junior Reserve Officer Training Corps) that public school students have al...
HEART VillageLake Wales
Hunger Education And Resource Training Village, or HEART Village for short, is a missionary training institute dedicated to educate, equip and empower Christian workers with practical skills in cultural adaptation, pr...
Exploration V Children's museumLakeland
Ongoing science and enrichment classes for children.
Learning, Language and LiteracyLakewood Ranch/Bradenton/Sarasota
Learning, Language and Literacy provides American Sign Language classes for all ages featuring Signing Time! and other curricula. Additional services include 1:1 tutoring in ELA and reading as well as portfolio review...
JMJ Tampa BayLutz
JMJ Tampa Bay is a Catholic homeschooling community offering social opportunities for families in the Tampa area. Although the focus of our group is not the classes, we do offer them as a means to support the homescho...
My Village Learning CenterMartin County
My Village Learning Center was started in 2018 by two teachers who previously worked for the public school system here in Florida. They decided to homeschool their own children and started My Village to be able to sha...
Sancta Familia Home AcademyMelbourne
SFA is a private school in Melbourne, FL with a classical curriculum, serving full-time students and homeschoolers of Brevard county in grades K-12.
New Village AcademyMiami
New Village Academy offers an effective, stress-free alternative to conventional schooling. Parents can choose any or all of the following services: Tiny class size Placement testing One-on-one attention Students work...
Draw With Me ShopMiami Beach
Draw With Me Shop provides traveling educators to assist with homeschooling. Our teachers are experienced professionals that hold teaching certificates. Our curriculum is aligned with Dade-County Public Schools. We ac...
Parliament TutorsMiami/Miami Beach
Parliament Tutors is a private tutoring and test preparation service covering all academic subjects, homeschool subjects, and standardized tests.
RISENaples
RISE is a university-model academic homeschool program for middle and high school students in Naples, Florida.
The Dreamers' School OrlandoOrlando
The Dreamers' School is a part-time hybrid program for homeschoolers. Our programs are Waldorf-inspired, with the goal of educating the whole child, "head, heart, and hands." We offer classes for children in grades 1s...
Fit Learning OrlandoOrlando
Fit Learning Orlando offers individualized academic services driven by comprehensive assessments in reading, math, spelling, writing, relational skills, etc. Our sessions use the method of precision teaching to build ...
Avenue EducationOrlando
We provide in-person tutoring or homeschool support for grades K-12 and students with special needs. We also offer assessments and portfolio evaluations. We are an approved service provider for the Gardiner/FES schola...
Play Academy at Main Event OrlandoOrlando
Play Academy is an accredited STEAM curriculum offered at Main Event Orlando that combines real lessons with the games kids love. In partnership with Big Thought and STEM.org, these labs show that the more students pl...
Wellspring's Homeschool Small Group Learning K-2Orlando
Wellspring's homeschooling classes. The homeschool classes cover core subjects such as writing, spelling, vocabulary, arithmetic, and logical reasoning all while encouraging kind and creative expression. Lessons aim f...
Avenue EducationOrlando
Certified teachers in your area for in-person evaluations, tutoring, and consultation. K-12 and special needs. Approved service provider for Gardiner/Family Empowerment scholarship. Visit our website, call or text for...
Meta Humans Education CenterOrlando
The Meta Humans Education Center is dedicated to helping every young person achieve their own personal best destiny through education, leadership training, and character development. They offer ongoing and year round ...
Science Teaching/Tutoring with Tanya DrochnerOrlando, College Park
Science teacher, certified to teach by the Missouri Board of Education, offering science tutoring and classes (one-on-one or groups). Experience teaching 5th-11th grade science, including Biology, Chemistry, Physics, ...
Mad Science LaboratoryOrlando, Oviedo, Ocoee
Mad Science provides high-energy and hands-on Science programs for kids aged 2-14. We are the world's leading fun science provider! Mad Science is on a mission to spark the imagination of children everywhere with exci...
Walden Community SchoolOrlando, Winter Park
Offering part-time programs to support homeschooling families and supplement homeschool academics.
Vital AcademyOviedo/Seminole County
Vital Academy is a faith-based homeschool support group based out of Vital Church in Oviedo, FL. We can also provide an umbrella covering for students who live anywhere within the state of Florida. We are an active gr...
Palm Beach International AcademyPalm Beach County
Founded in 1989 as Private Tutoring Services, Palm Beach International Academy has been developing educational programs focusing on the individual learning styles, needs and lifestyles of students of all ages. Offers ...
Hub Learning CenterPalm Harbor
Virtual or Home School can be a great option for many students, but it takes a lot of management and organization to stay on top of things. Our teachers will not only help keep you organized and on track, but also pro...
Holy Family AcademyPalm Harbor
Holy Family Academy is a private, independent school in the Catholic tradition for students in grades K-12. We work cooperatively with parents to ensure that our students have the best Catholic education possible. Hol...
Priceless Treasures AcademyPalmdale
Priceless Treasures Academy was established by the Prevatt Family after much intrigue, encouragement, and prayer. We are a homeschooling family embarking on our 15th year of school. We have used a myriad of methods su...
EQUIP EducationPembroke Pines, Florida
Equip Education is a non-profit, 501(c)3 ministry that provides supplementary, Christian, classical education to homeschoolers. Students are in class one day per week during a 34 week academic year. The program offers...
Emerald Coast BEST RoboticsPensacola
BEST (Boosting Engineering Science and Technology) is a non-profit volunteer based program that aims to inspire kids to learn about careers in engineering, science and technology through participation in sports-like, ...
Saint Paul Lutheran Church Middle School TutoringPensacola
Middle School Tutoring Program with a certified teacher as the tutor. Mondays through Thursdays from 9am to 1pm.
Love2Learn2Day, LLCPinellas County
Resources for Homeschool Families to make your educational journey the very best it can be *Creative Classes for homeschool students that are tailored to special interests and ability levels *K-12 Tutoring and academi...
BLI Learning LabsPinellas Park
This day lab provides core instruction in ELA, math, and science, as well as enrichment to include graphic design and performing arts. Instructors use multiple modalities of learning to personalize instruction and ens...
Safety Harbor TutoringSafety Harbor
My name is Wendy and I run Safety Harbor Tutoring. I am an experienced, certified Florida teacher with 10+ years of experience in reading and writing. I hold two Masters degrees - one in Elementary Education and the o...
The Bridge SarasotaSarasota
The Bridge is a non-profit organization that consists of a two-part program established to support and encourage homeschool families. Each program operates independently but both are available for all families. The Br...
PEARL Teaching & TutoringSarasota
PEARL Teaching & Tutoring provides 1:1 or small group reading intervention services, executive functions coaching, IEP consultation, and English Language Arts instruction in the Sarasota, FL area.
The BridgeSarasota County
The Bridge Academy Classes offer Middle School (6th-8th grade) and High School (9th-12th grade) courses. These classes are designed to supplement your homeschooling program. The Bridge Academy offers a variety of clas...
Educational TherapistSarasota County
Venice Educational Therapy provides one-on-one, customized instruction and coaching to individuals with cognitive challenges including ADHD, reading/language disorders, executive function skill deficits, and sensory i...
Be Smart TutoringSt Petersburg
Florida Department of Education certified private teacher/tutor with home school classroom in NE St Petersburg teaching since 2003. Works with grades PreK-10 in all subject areas. Offering home school classes, group t...
Be Smart HomeschoolSt. Petersburg
This resource is here to help anyone who is looking for support during their homeschool journey. There is a fully certified teacher available as a resource either for consultation, classes, or tutoring. A full homesch...
Bay Academic SupportTampa
Bay Academic Support provides individualized lesson plans to aid students struggling with reading, ADD, ADHD, dyslexia and other learning difficulties. Our goal is to help them master the reading process and gain grad...
Classical Conversations Tampa DowntownTampa
Pursuing Classical Education TOGETHER! We meet on Tuesdays at First Baptist Church located at 302 W Kennedy Blvd (map) across from the University of Tampa campus.
Family Learning AllianceTampa Bay
Family Learning Alliance supports all aspects of families independent homeschool journey. This innovative learning center offers homeschool classes, drop off services for students to work with certified learning speci...
Paige's PlanetTarpon Springs
Creative workshop-style classes designed to promote science (specifically life science) through safe hands-on experiences with live animals, multi-media presentations, and and empowering kids to share what they learne...
Go to...