Jump to: Homeschool Co-ops | Homeschooling Classes & Academic Enrichment
Looking for someone to teach physics to your teen? Need a way to avoid teaching algebra? Want to enroll your Kindergartener in a co-op for social time? Homeschool classes and co-ops are a great way to spend time with other homeschoolers and skill-share with other homeschool parents.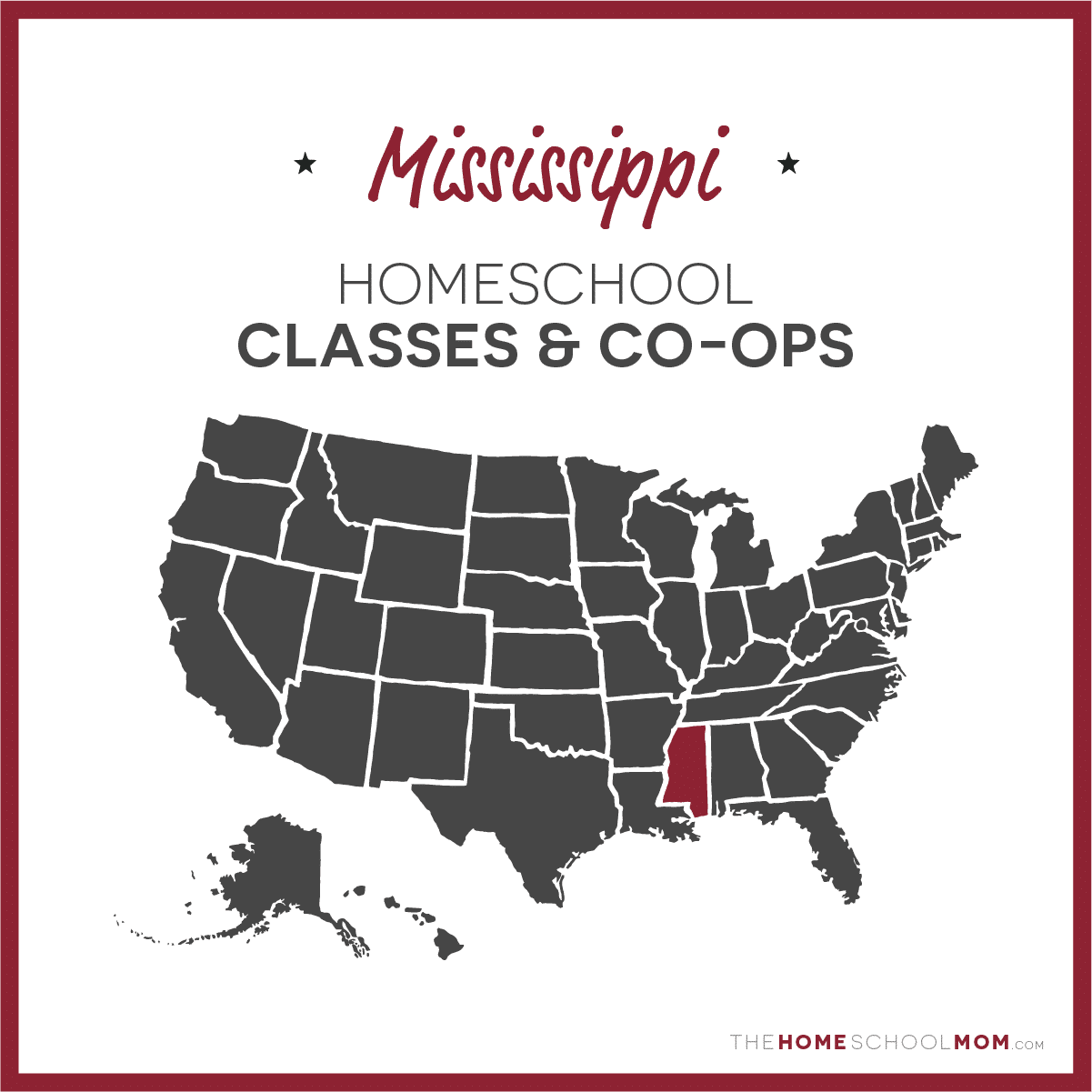 Submit a Local Resource
Our listing of Mississippi co-ops and academic classes for homeschoolers is ordered alphabetically by city, with co-ops in the first section and all other academic resources below. If you would like to submit a Mississippi co-op or academic resource, you may do so using the red button above.
Mississippi Homeschooling Co-ops
ReACHE (Reservoir Area Christian Home Educators)

Brandon

ReACHE is a Christ centred group that helps support homeschooling families through fellowship and community. Offering Co-op classes, field trips, play dates, and friendship in the Reservoir Area of Jackson MS.
IMPACT

Braxton

Impact is a community of believers seeking to provide educational, social, and spiritual growth opportunities in order to equip our children to be world changers. Co-op classes begin the first week of August. No classes in December. Classes end in April.
Christian Home Educators Connection (CHEC)

Jackson (Tri-County Area)

CHEC's purpose is to support and encourage home educators by providing information as well as educational and social opportunities. CHEC is a Christian, non-profit organization. Membership is open to all those wishing to home school their children in an environment of Christian principles applied cooperatively to enhance home education. CHEC offers elementary co-ops, junior high and senior high academic clubs, field trips, holiday parties, social events, academic competitions, high school graduation ceremony, senior year activities, yearbook, etc. CHEC membership usually exceeds 500 families.
Excelsior Classical Christian Community

Tupelo

Classical Christian co-op for homeschoolers kindergarten through 12th grade. We offer parent-led tutorials in all subjects. Join us as we read the Great Books through the lens of Scripture.
Mississippi Homeschooling Classes & Academic Enrichment
The Salvation Army Kroc Center Homeschool Program

Biloxi

This homeschool courses is designed with you and your students in mind! They offer extra curricular classes that give your students the ability to socialize, collaborate, work as a team, and get experience in a classroom setting in a safe environment. Their belief in Proverbs 22:6, "Train up a child in the way they should go, and they will not depart from it" greatly contributes to the teaching style of their teachers. Classes are designed with life-giving principles and our teachers are there to serve you!
HEARTS - Biloxi

Biloxi

HEARTS Ministry is a non-profit organization whose purpose is to (1) train students to serve God and others in the church and community; (2) minister to student's and parent's needs as they arise; (3) provide the platform for students to learn to serve others; (4) provide quality instruction in the classroom. HEARTS Ministry wants to partner with the home school parent who wishes to supplement their child's home education with educational and enrichment classes. HEARTS Ministry is a home school support ministry - not a full-time school. It is the parent's responsibility to adhere to the Mississippi Home School Law. HEARTS Ministry meets one day per week on Monday. There are two, 8-week sessions per school year. The first session begins in early September and ends in early November. The second session begins in late February or early March and ends in late April to early May. Classes are available for grades Pre-k (age 2) —12.
Jackson Classical

Jackson/Central Mississippi

Jackson Classical is a two day homeschool program that offers both experienced, academic counseling for homeschooling parents and enrichment classes for children in one convenient location. It's a program where you will find parents are the primary influence in their child's life. Jackson Classical program comes along side your homeschooling efforts and helps strengthen your homeschool experience, so you can go the distance.
Origins Resource Association: Science classes, workshops, and seminars

Kenner

Classes, workshops, and seminars in all areas of science by retired science teacher with 19 years experience. Certified in physics, chemistry, biology, earth science, and math. Specializing in the scientific case for creation, including dinosaurs and so-called "ape-men." Also offering presentations on age of the earth, astronomy and cosmology from a Christian perspective.

Origins Resource Association: Science classes, workshops, and seminars details
Mississippi Classical Conversations

Mississippi Statewide

CC is a national homeschooling program that uses a Bible based curriculum taught in a christian, classical tradition. Classes are geared for age 4 through high school.
Education Corner

Poplarville

Education Corner offers academic enrichment classes Monday - Thursday for grades K4-High School. Education Corner is also excited to announce the beginning of our Home School Band. The Band is open to home educated students grades 6-12.
The Country Schoolhouse

Purvis

This organization is a privately owned education resource center that offers supplemental and enrichment classes that can be added to any homeschool curriculum program. All Classes are taught by certified teachers. Classes range from music, art, drama to farm biology, S.T.E.A.M. (science, technology, engineering, art, math) and coding. Students, ages 4-18yrs old, can find classes to attend. Monthly field trips, holiday parties, and special activities are planned by this organization, but membership is required to participate in these additional activities. Other services also available at The Country Schoolhouse: Homeschool consultations for new homeschooling families, tutoring, private music lessons, and facility rental for birthday parties, showers, or civic organizations.
The Village School MS

Ridgeland

The Village School is located in Ridgeland, Ms and serves to equalize education in the surrounding community. They offer academic and enrichment activities in a cottage school environment for preschool through high school. They also offer community events and serve to build connections with local professionals and community organizations. Classes are fun and rigorous. The school is welcoming to all and is a secular program. They are also committed to meeting students where they are and have a large community of spectrum and special needs students.
Mississippi BEST

Starkville

BEST (Boosting Engineering Science and Technology) is a non-profit volunteer based program organization whose mission is to inspire students to pursue careers in engineering, science and technology through participation in sports like, science and engineering-based robotics competition. Mississippi State University
Home Educators of Southwest Mississippi

Summit, McComb, Tylertown, Osyka, Brookhaven

Home Educators of Southwest Mississippi is a non-profit homeschool group which offers support to homeschool families. HESWM has baseball, basketball, and cross country teams. HESWM also offers Beta Club, spring formal dances, and a formal graduation ceremony for members seniors. Lego league and Robotics along with field trips are also hosted by this group.