Jump to: Homeschool Arts | Homeschool Sports
In addition to the opportunity to get out of the house and socialize, homeschool sports and arts programs can offer long-term benefits by developing characteristics like leadership, self-confidence, perserverance, and self-esteem. Many organizations and businesses have opportunities specifically for homeschoolers, while others invite homeschoolers to participate in their regular programs.
Not sure how to choose activity/activities for your children? Read how Rebecca narrows down the choice of extra-curricular activities.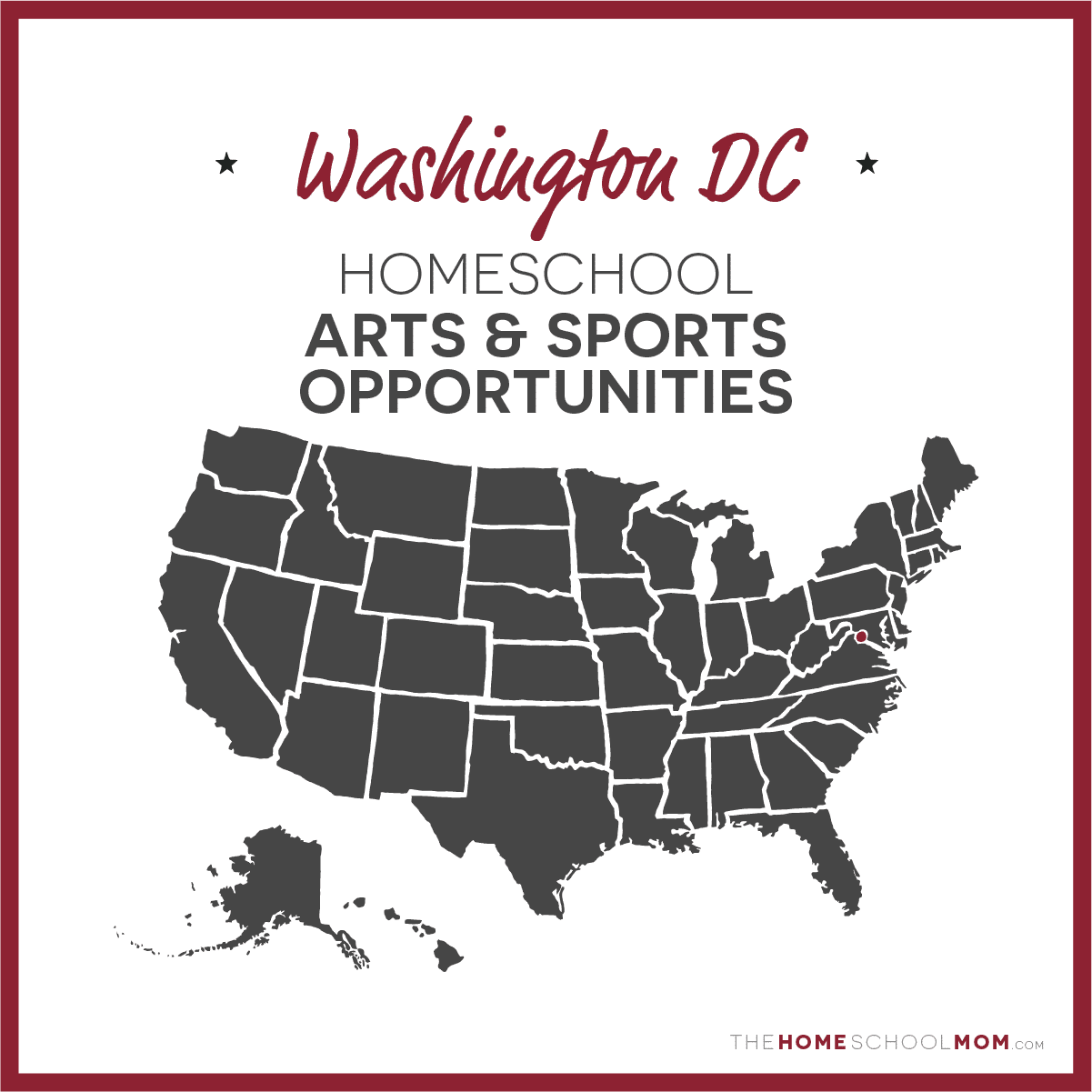 Submit a Local Resource
Our listing of Washington, D.C. list of homeschool arts and sports programs is ordered alphabetically by city, with arts in the first section and sports in the second section. If you would like to submit an Washington, D.C. arts or sports program, you may do so using the red button above.
Washington, D.C. Homeschool Arts Programs
Vicky's Music Studio Piano and Voice Lessons

Annandale, VA and D.C. Metro Area

Music lessons enhance skills in every area of life. The ability to create music is a skill very few regret learning, and the other skills learned through music lessons (discipline, time management, appreciation, observation) can transfer to all aspects of life. Music lessons help students learn to appreciate music for its own merit, while also teaching them transferable life skills. Vicky provides private lessons for students of all ages and abilities. She teaches lessons in her home studio, as well as in students' homes, for an additional travel fee. Lessons are weekly, and last from 30 minutes to 90 minutes. In home lessons are subject to location, time, and date of lesson, as her schedule is already quite full in the after school hours. Daytime availability is more open.
Arlington Arts Center

Arlington

Join the Arlington Arts Center for a class that explores the visual arts through a variety of fun and engaging techniques. Observation and imagination will be emphasized while students learn about line, color, shape, texture, space and form. During this eight-week course, participants will experiment with various media such as drawing, painting, collage, and printmaking, which will be combined to create finished projects.
School of Rock - Loudoun

Ashburn

School of Rock's performance-based music curriculum develops confidence and skills in students using a fun and interactive environment. This method combines weekly private lessons with structured group rehearsals and prepares students to perform live on stage. Programs are designed for ages 8-18 and all skill levels. Areas of instruction range from guitar lessons to bass, vocals, keys and drums lessons. Also offers summer camps, monthly events, workshops, clinics, guest professors and additional performance opportunities through local House Bands and national All-Stars programs. Call to schedule a trial lesson or a tour. 703-850-2100. Located at 20660 Ashburn Road, Ashburn, Virginia 20147.
Music and Narrative

Baltimore/Washington DC area

Children love stories and music. With this precept, Music and Narrative has created children's programs to introduce young listeners to the literature of classical piano music by way of storytelling. These programs offer live performances of music and storytelling. Shows typically last about 30 minutes and are directed to children 4-8 years of age. Parents are invited to host an event for a group of children. The cost of a show is $125. The presentations can be held at homes, churches, or other public venues.
Creative Thinkers

Bethesda

Reggio inspired art sessions offered as a one time experience or scheduled weekly or monthly. Ages 2 - 8. Can work one on one or with larger combined group. High quality materials are used and experiences can highlight a skill, a subject or help with a specific project.
Music Enrichment Center - MEC

DC metropolitan area (DMV)

25 years of experience teaching music both in the classroom and privately. My focus is on developing a quality TONE. So many young or beginner musicians focus on playing fast, technically challenging music, often overlooking their tone quality. The Music Enrichment Center works with students to achieve superior tone quality on their chosen instrument. It would be my honor to be your guide on this Musical journey!!! *** We also offer Instruction on: CLARINET, FLUTE, TRUMPET, Beginning PIANO, Music THEORY, and Digital MUSIC PRODUCTION. Currently accepting openings for: Weekdays: M, T, W, & F Midday, Afternoons, Evenings Weekends: Sat - 3-8p 30 min - $30 45 min - $40 60 min - $50 *Discounts available for lessons purchased in bulk *Sibling / Group discounts available **$10 fee for travel over 20 miles HOME SCHOOL NETWORK / GROUP DISCOUNTS
Awaken the Voice: Studio

Falls Church

This is a private voice/music studio offering a wide range of services including coaching in singing, acting, public speaking, presentation coaching, and more. The studio trains homeschool students currently, and has daytime slots available on a rolling basis. This studio focusses on presence and practice for students age 10- adult and does offer some competition/performance opportunities as an option for competative students, though not required to participate. No audition required, interview only. There are rate reductions for homeschool students and there is wide daytime availability.
Art With Mrs. Jaynie

Harrisonburg

Art with Mrs. Jaynie teaches in-person pod learning art classes to kiddos in and around the Harrisonburg, VA area. She will bring all the art supplies you need to complete art projects ranging from drawing, to painting, to clay. In-person classes are for small groups of students together for weekly or bi-weekly art classes. Additionally, she teaches virtual homeschool art curriculum, where she will ship supplies to individuals around the country. In-person and virtual classes area available from PreK- High School students.
Rock Creek Music Studio: Brass lessons

Montgomery County

Private and group instruction for brass instrumentalists. Learn to play your instrument with an easy and relaxed sound. Develop your ear, your sense of musical line and play the music that you want to play. This studio promotes a flexible approach to repertoire that is grounded in the basic fundamentals of brass performance: long tones, lip slurs and scales, with emphasis on technique. These are the tools you will use to craft beautifully expressive music! Instruction in all styles of music.
CREATE Arts Center

Montgomery County, Maryland and Washington, DC

CREATE Arts Center in Silver Spring offers classes for homeschool students ages 5-18. Painting, drawing, sculpture, mixed media, portrait, science and art, movement and art. Age 14-18 years can participate in "Portfolio Building" classes (semester basis) in anticipation of pursuing the visual arts after high school.
Astilla Piano Studio

NorthEast

As a musician who practices continued learning, evolving and figuring out ways to elevate performance, Christopher has worked as an educator in the Capitol Hill and greater Washington, DC community for over ten years. Teaching piano and music production, his instruction focuses on the development of methods that enable the musician to build inspired, creative work while working independently. Learning to play an instrument takes patience, persistence, and focus — the same qualities students need to excel in school and in their future career. He supports our students every step of the way, helping them achieve their goals. He also highlights how the unique skills one works toward in becoming a musician can be carried over to independent learning in the academic and professional world. Working from his home studio close to Lincoln Park, he enjoys teaching students of all ages and abilities.
Integrity Of Self MovementArts® (ISMA) HomeSchool Movement Classes

NorthEast DC

Integrity of Self MovementArts® (ISMA) is now offering a Homeschool Program for ages 6-12 year old. Classes incorporate ISMA Core-5 Disciplines of Breathing, Skeletal Awareness, Balance, Energy Dynamics, and Labanotation, the written symbolic language of movement. The Homeschool Program has (Five) 4-Week Sessions. Each session focusing on one of ISMA's Five Core Disciplines. Classes are lots of hands-on learning, moving, fun, and expression-making. * The ISMA Program reinforces "Integrity Of Self" values, while providing an avenue in which the child can socialize with other children in a positive enriching environment.

Integrity Of Self MovementArts® (ISMA) HomeSchool Movement Classes details
Joy of Motion Dance Center

NorthEast Washington

Joy of Motion Dance Center is offering dance classes exclusively for home school students. Classes will be offered in General Dance, a class which will introduce various dance styles including ballet, jazz, hip hop and more, with a few weeks spent on each style. Classes will occur during the day and are grouped by ages: 5-7, 8-11, and 12-14. The classes are semester-based to give students a chance progressively grow skills, learn choreography, and explore creative processes. Classes are designed for all levels and teachers are skilled in tailoring classes to the abilities of each student.
Joy of Motion Home School Dance Classes

NorthEast Washington

Joy of Motion Dance Center offers weekday dance classes specifically for homeschooled students designed to teach students dance technique, stimulate creativity, and build confidence and teambuilding. Students will rotate different styles throughout the term to gain exposure to many dance styles in a safe and fun environment.
Brian Lotter Piano Studio

Rockville

Private piano lessons are available from one of the area's best piano teachers, who is also an accomplished performer and composer. Styles available include Baroque, Classical, Romantic, Modern, Ragtime, Blues, Rock, Funk, and Electronic Synthesizer. Lesson times before 3:30pm on weekdays get a discount. Beginner-Advanced, ages 6-adult. Contact Brian Lotter Piano Studio today to set up a free first lesson. Ongoing deal and discount for homeschool families.
Round House Theatre Education

Silver Spring

Round House Theatre Education offers an exciting array of classes for students during the school year. These programs inspire creativity, exercise imaginations, and promote artistic risk-taking, while developing skills in critical thinking, cooperation, and self-confidence. Our classes focus on engagement and activity. Every child can benefit from the opportunity to channel their energy and creativity. This includes activities and classes ages 3 - 18
Violin Lessons with Cecilio Studios

Silver Spring

Welcome to Cecilio Studios! I have been a full time violin teacher for over 15 years and provide violin instruction in person at my home studio. My primary teaching curriculums are the Suzuki Method, FiddleQuest, and Music Mind Games (for music theory). I teach students ages three through adult. I have daytime availability and the space and flexibility to accommodate families with multiple children. Get in touch directly to learn more!
The Maryland Christian Youth Band and Orchestra

Silver Spring area

The Maryland Christian Youth Band and Orchestra offers to both homeschool and traditionally schooled students performance groups with professional instruction in all of the orchestral winds, strings, and percussion. All groups except jazz band meet each week from September through April, on Tuesday and Thursday afternoons, at the Lutheran Church of St Andrew, 15300 New Hampshire Avenue, Silver Spring, Maryland. Repertoire includes Classical music, popular selections, and sacred music. Concerts are given twice a year. MCYBO welcomes students of all ability levels. Its faculty members strive to provide appropriate instruction in multiple levels of experience, in a nurturing and challenging musical environment. Please see the website for further information.
The Washington School of Ballet Homeschool Classes

SouthEast Washington

The Washington School of Ballet's SE Campus will be offering daytime ballet classes for homeschoolers ages 5-10, beginning in September 2019. Classes will take place on Mondays and Wednesdays between 10:30am-2:30pm (exact time will depend on class placement). For class placement, questions, or to schedule an audition, please call 202-889-8150 or email mwilliamson@washingtonballet.org
Adrenaline Dance Studio

Tysons Corner

The Adrenaline Dance Academy offers professional and accessible jazz, lyrical , hip hop, and tumbling programming to your student. Your dancer(s) can expect high quality classes taught by professional instructors.
School of Rock - Vienna

Vienna

School of Rock's performance-based music curriculum develops confidence and skills in students using a fun and interactive environment. This method combines weekly private lessons with structured group rehearsals and prepares students to perform live on stage. Programs are designed for ages 8-18 and all skill levels. Areas of instruction range from guitar lessons to bass, vocals, keys and drums lessons. Also offers summer camps, monthly events, workshops, clinics, guest professors and additional performance opportunities through local House Bands and national All-Stars programs. Call to schedule a trial lesson or a tour. 703-850-2100. Located at 111B Center Street South, Vienna, Virginia 22180.
Mark's Music Prep

Washington D.C Metropolitan

Mark's Music Prep is a music education service that offers private and group music lessons for the piano, violin, viola, cello, composition, performing, and music theory to people of all ages. The mission of Mark's Music Prep is to spread the joy of music through education that supports, engages, and enhances the quality of life.
Dodgeball Theatre

Washington DC area/Herndon

Dodgeball is dedicated to empowering young artists and developing their theatrical voices through all-ages classes, independent productions, and its youth company, the Teen Ensemble. Dodgeball makes theatre focused on questions of identity, narrative, and storytelling. Its training method combines movement, improvisation, and nonfiction writing to develop multimedia performances.
Washington, D.C. Homeschool Sports Programs
Royal Fencing Academy

Gaithersburg

Royal Fencing Academy is a Montgomery County, Maryland based Fencing Sport Academy and Club well suited to serve Home Schooling Students in the region. Competitive as well as recreational Fencing programmes. Morning, and afternoon schedule. Transportation option available. Located at:16021 Industrial Dr. Suite 3, Gaithersburg, MD 20877 PH:240-410-8599
Invicta Sports Club: Fencing and Archery

Gaithersburg/Washington DC metropolitan area

Classes and one-time trial sessions in Olympic Sport of Fencing for children ages 5 and up. Fencing is an exciting activity to train sharp minds and reflexes, sport of tactics, and psychology, dubbed physical chess. Success in fencing is not based on size, or strength alone. Victory goes to the smartest and sharpest. Protecting gear makes fencing safe. Fencing could be a path to the college of your dream. Over 40 leading colleges and universities, to include every Ivy League school, have NCAA fencing programs. Day classes/private lessons are available. Archery sessions are also available. Summer camps offered June through August.
TGA Premier Tennis of North DC

NorthWest Washington

TGA introduces the life-long sport of tennis at a young age through programs that provide a fun and enriching experience for children while being a convenient and affordable option for parents. Dedicated coaching staff help students develop their skills and a passion for tennis while using the sport as a vehicle for delivering curricula that are loaded with educational concepts including STEM and life skills such as respect, honesty, perseverance, and sportsmanship. TGA stands for: Teach, Grow, Achieve – these concepts are the foundation of every program offered. Give your child the advantage of learning and playing tennis in an environment that will benefit them for a lifetime. To find the program that is the best fit for your child, check out the program details at www.playtga.com/northdc.
Washington Tennis & Education Foundation

NorthWest Washington

Attention All D.C. Home-schoolers, Washington Tennis and Education Foundation located on 16th & Kennedy is offering morning and early afternoon tennis classes. Tennis is a great way to get your PE credits. If you or someone you know is completing a cyber or home school curriculum, please share this program with them. Runs September though May.
Jeff Smith Mile High Karate

Sterling

Jeff Smith Mile High Karate is a martial arts school in Sterling, Virginia providing a perfect venue for children (and adults) to train and get exercise while learning to protect themselves. Programs are designed to help students become good stewards of their community. The leadership program promotes positive behaviors and regularly offers anti bullying seminars open to the community at large. Attending these seminars are required for each student. Students leveling up to Black Belt are required to complete a community service.