Field trips are a great way to reboot a bad homeschooling week, get out of the house when everyone has cabin fever, and learn about your local area. Before heading out, check out Jeanne's tips for improving homeschool field trips.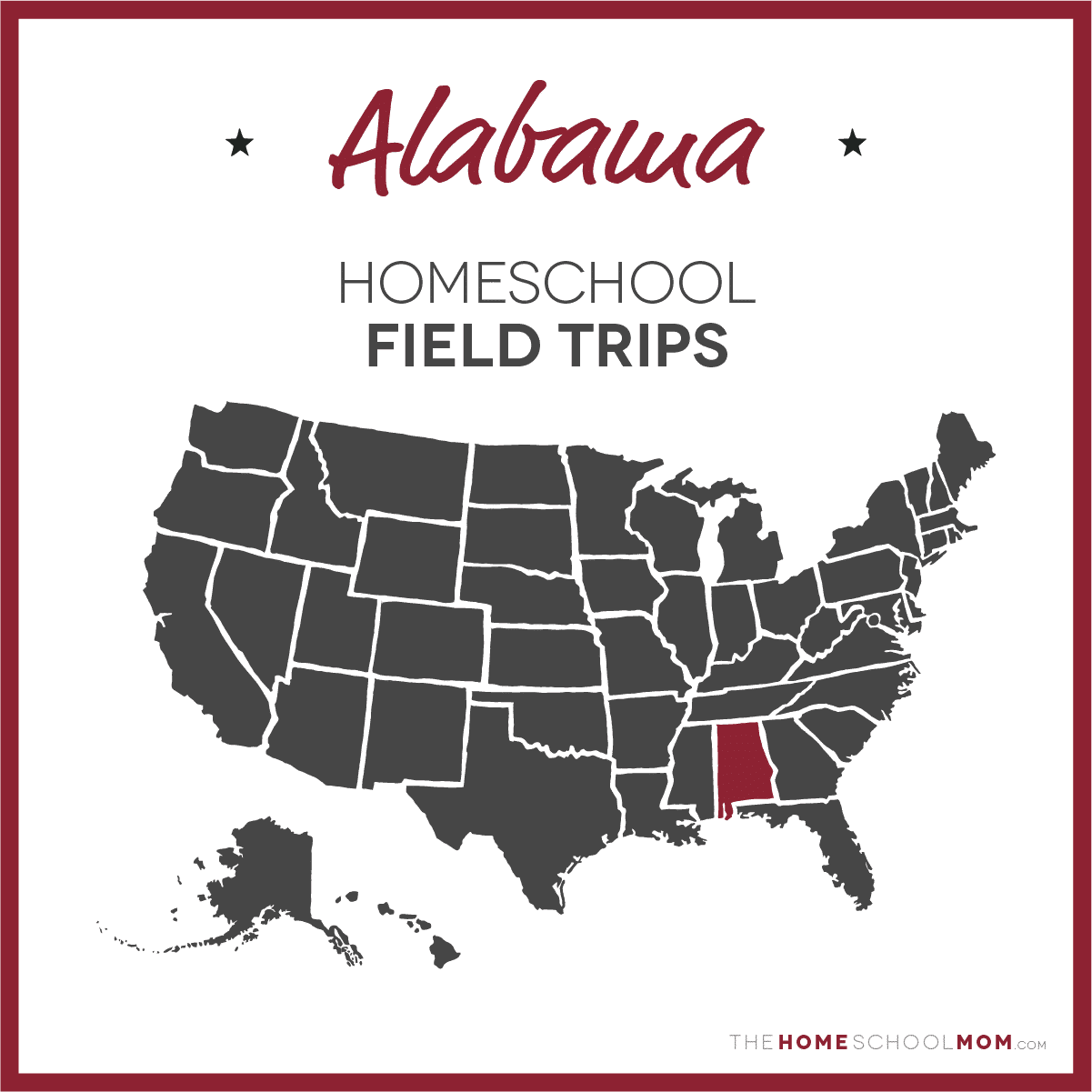 Submit a Field Trip Destination
Our listing of Alabama field trips for homeschoolers is ordered alphabetically by city. If you would like to submit a Alabama field trip destination, you may do so using the red button above.
An asterisk * after the title indicates that a virtual field trip is also available.
Wind Creek State Park

Alexander City

This park spans 1,445 acres along the shores of scenic Lake Martin, which is a 41,000-acre clear-water reservoir perfect for fishing, swimming and boating. Park facilities include the largest state-operated campground in the United States with 626 sites, many of which are waterfront sites allowing campers to fish, swim and boat right out their back door. Other facilities include a marina, campstore, fishing pier, hiking trails, playground and picnic areas with tables, grills and shelters. Ten camping cabins will be constructed at Wind Creek State Park, five of which are now open to the public.
Anniston Museum of Natural History

Anniston

Explore the wilds of Africa, the wonders of the North American wilderness, and the mysteries of 2,000 year old mummies in the seven fascinating exhibit halls of the Anniston Museum of Natural History. Open-air exhibits place you face to face with majestic--and often deadly--animals! See one of the country's oldest exhibits of birds in their habitats, and explore the children's discovery room for hands-on experiences with Alabama's natural wonders. Visit the Changing Exhibit Gallery for a look at how artists interpret nature. Stroll along outdoor nature trails and enjoy global shopping in the Museum Store.
Berman Museum of World History

Anniston

The Berman Museum features works of art and historical objects that span over 3,000 years and that have been collected from around the world. There are programs for Girl Scouts, Teachers, Home School Programs, Members, Volunteers and Interns.
The Alabama Veterans Museum

Athens

The Alabama Veterans Museum and Archives opened its doors in 2000 with a few primitive displays and much renovation work still to be done. We have heard it commented by visitors who have seen military museum throughout the U.S. that the charm of this museum is that it celebrates the accomplishments and sacrifices of the common service person and his family on the home front, rather than extolling the oft-told glory of their commanders.
Tigers For Tomorrow

Attalla

Tigers For Tomorrow at Untamed Mountain, located on 140 acres in North Alabama, is a wild animal preserve and an environmental educational center. Providing a forever home to over 170 animals including tigers, lions, leopards, bears, wolves and many other wonderful species. Tours include grade-specific learning objectives in life science, primary instincts of all animals, conservation, and other animal related topics of interest. Groups also enjoy the barnyard animal contact area, The Legacy Living Classroom, Untamed Gift Store, and a large pavilion for students to enjoy their lunch.
Auburn University Museum of Natural History

Auburn

Members of the public interested in visiting the museum are encouraged to join us on the first Wednesday of each month at 5:00 p.m. for a tour of the museum's collections. These tours are open to everyone and admission is free. Group tours are available by appointment and can be tailored to meet your curriculum and/or content needs.
Chewacla State Park

Auburn

Chewacla State Park's 696 scenic acres are a delightful pause from nearby interstate traffic. Facilities include a 26-acre lake, swimming area, playgrounds, hiking trails, a modern campground, picnic areas with tables, grills and shelters, and newly renovated cabins. Nearby Auburn University makes Chewacla the perfect place to stay on football weekends.
Kreher Preserve & Nature Center

Auburn

The Kreher Preserve & Nature Center is a 120-acre natural forest preserve, an extension of Auburn University, that serves as an outreach and educational resource for the community and the entire Southeast. Offering educational programming, camps, nature preschool, and many events throughout the year, including Nature's Explorers - a class specifically geared for our home-schooled families. Come explore science and nature with us! Check our website for dates and register online today!!
Jan Dempsey Community Arts Center

Auburn

The Jan Dempsey Community Arts Center hosts a variety of programs, including Community Theatre, Ballroom Dancing, Featured Regional Artists, and Traveling Exhibitions.
Jule Collins Smith Museum of Fine Arts

Auburn

JCSM offers free tours for groups. The permanent collection is focused primarily on representative work from the 19th, 20th and 21st centuries, including American modernism.
Ft. Mims

Baldwin County

Ft. Mims Massacre, Baldwin County, Alabama August 30, 1813. Creek Indian War took place Most brutal massacre in American history. Indians took fort with heavy loss, then killed all but 36 of 550 in the fort. Creek Indians had been armed by militia in Pensacola for this phase of the War of 1812.
Rikard's Mill Historical Park

Beatrice

An operating water-powered grist mill and museum. Rikard's Mill is nestled in the piney woods along the banks of the picturesque Flat Creek which flows through Monroe County and into the Alabama River. First built in 1845, the mill has served residents of North Monroe County ever since. Visitors to the mill can watch as corn is ground into cornmeal and grits. The museum stages many activities in the park and is dedicated to the preservation of past folk traditions, such as gristmilling, blacksmithing, cane syrup making, and more.
Tannehill Ironworks State Park

Bessemer

Tannehill Ironworks Historical State Park has more than 1,500 acres in three counties set aside for hiking, camping and outdoor recreation. A miniature railroad chugs through the pines. From spring through fall, the blacksmith, miller and craftsmen demonstrate their trades. Craft shops occupy restored pioneer cabins and artisans chat with visitors from their front porches. Steeped in history, Tannehill feels timeless. The cotton gin, pioneer farm and working gristmill preserve a long-gone way of life. Hiking trails retrace historic roadways. Artifacts of Alabama's 19th century iron industry displayed in the Iron and Steel Museum put in perspective the massive stone furnaces, Tannehill's awe-inspiring centerpiece.
Alabama Adventure & Splash Adventure

Bessemer

Alabama Splash Adventure combines water and amusement attractions together, so the entire family can enjoy waterslides and rides in one location for one low price. Depending on your mood, enjoy a relaxing lazy river ride or amplify the excitement with monster slides and waves. On the amusement end, check out the Rampage Wooden Roller Coaster that reaches speeds of 56 mph and family thrilling rides.
Bessemer Hall of History

Bessemer

The Bessemer Hall of History is open Tuesday - Saturday from 9:00 a.m. until 4:00 pm (closed from 12:00-1:00 for Lunch) and offers something for everyone. Plan to visit the Hall soon to "relive" the history of the area through photographs, machinery, books, and many other artifacts. Special exhibits and events are planned throughout the year; call (205) 426-1633 for up-to-date information.
Camp Fletcher

Bessemer

Camp Fletcher's Outdoor Education program is an experiential learning opportunity for students to learn about our natural environment first-hand. One Day field-trip adventures are offered to students of public schools, private schools and home schools. Our curriculum has been specifically designed around Camp Fletcher's indigenous trees, plants and wildlife - as well as the property's creek and other natural resources. Program lessons are interactive and often include hikes, team-building activities, educational lessons and arts & crafts.
Vulcan Park

Birmingham

"Vulcan Park and Museum is home to the world's largest cast iron statue and features spectacular panoramic views of Birmingham. We tell the story of Birmingham's past, present and promise for the future."
McWane Science Center

Birmingham

McWane Science Center is the South's premier science center and IMAX Dome Theater. The museum features four floors of exciting interactive science exhibits and daily live shows. Highly recommended!
Ruffner Mountain Nature Center

Birmingham

This 1,011 acre forested urban nature center and certified wildlife habitat offers educational programs, weekend activities, and over 11 miles of footpaths for hiking and bird watching.
Birmingham Civil Rights Institute

Birmingham

The website of the Birmingham Civil Rights Museum includes a virtual tour of the museum as well as teacher resources.
Birmingham Zoo Home School Academy

Birmingham

The Birmingham Zoo Education Department has home school science classes for children in 1st-12th grade. They also offer home school art classes and day classes for 2nd-12th grades.
Birmingham Museum of Art

Birmingham

Founded in 1951, the Birmingham Museum of Art has one of the finest collections in the Southeast. More than 17,000 objects represent a rich panorama of cultures, including Asian, European, American, African, Pre-Columbian, and Native American. Highlights include the Museum's collection of Asian art, considered the finest and most comprehensive in the Southeast, and its collection of Vietnamese ceramics, one of the finest in the world; a remarkable Kress collection of Renaissance and Baroque paintings, sculpture, and decorative arts from the late 13th century to the 1750s; the collection of 18th century European decorative arts, which includes superior examples of English ceramics and French furniture; and the Museum's world-renowned collection of Wedgwood, the largest outside of England.
Alabama Historical Radio Museum

Birmingham

The Don Kresge Memorial Museum. The Museum is now open in the Alabama Power Building at 600 N. 18th Street.
The Alabama Jazz Hall of Fame

Birmingham

This art-deco museum honors great jazz artists with ties to the state of Alabama. While furnishing educational information, the museum is also a place for entertainment. Exhibits convey the accomplishments of the likes of Nat King Cole, Duke Ellington, Lionel Hampton and Erskine Hawkins and the music that made them famous. Within this fine musical collection, visitors travel from the beginnings of boogie woogie with Clarence "Pinetop" Smith to the jazz space journeys of Sun Ra and his Intergalactic Space Arkestra.
The Alabama Men's Hall of Fame

Birmingham

The Alabama Men's Hall of Fame exists to recognize those men native to or identified most closely with the State of Alabama who have made significant contributions on a state, national or international scale within their professional fields of activity and concern.
Alabama Museum of the Health Sciences

Birmingham

The Alabama Museum of the Health Sciences, at the University of Alabama at Birmingham, is dedicated to the preservation and display of equipment, instruments, and objects that represent the history and development of the health sciences in the areas of education, research, and practice in the United States with special emphasis on the state of Alabama and its contributors to the practice of medicine. The scope of the collection includes, but is not limited to the following fields: medicine, nursing, ophthalmology, dentistry, public health, and allied health.
Alabama Theatre

Birmingham

The Alabama Theatre was built in 1927 by Paramount Studios as an Alabama showcase for Paramount films. It was used primarily as a movie palace for 55 years, with the exception of the annual Miss Alabama pagent and the weekly Mickey Mouse Club. In 1987, the owners of the facility declared bankruptcy and the theatre was purchased by Birmingham Landmarks Inc., a non-profit corporation. The new Alabama Theatre for the Performing Arts hosts many live events, as well as films. Each year the Theatre hosts over 300 events attended by a half million Birmingham area citizens.
Barber Vintage Motorsports Museum

Birmingham

Dedicated to the preservation, interpretation, exhibition and history of motorcycles, vintage vehicles and motorsports. The collection now has over 900 vintage and modern motorcycles and as well as a substantial collection of Lotus and other racecars. It is considered the largest in North American and possibly the world. There are approximately five hundred motorcycles on display at any given time. (There are over 900 in the collection.) These bikes range from 1904 to current-year production. There are bikes from 16 countries that represent 143 different marques. The common street bike is represented, as well as rare one-off Gran Prix race machinery. Bikes have been purchased from as far away as Australia, New Zealand, and Sweden, but also as close as down the street.
Sixteenth Street Baptist Church

Birmingham

On Sunday morning, September 15, 1963, the Ku Klux Klan bombed the Sixteenth Street Baptist Church in Birmingham, Alabama, killing four girls. This murderous act shocked the nation and galvanized the civil rights movement.
Birmingham Botanical Gardens

Birmingham

Birmingham Botanical Gardens is Alabama's largest living museum with more than 10,000 different plants in its living collections. The Gardens' 67.5 acres contains 25+ unique gardens, 30+ works of original outdoor sculpture and miles of serene paths. The Gardens features the largest public horticulture library in the U.S., conservatories, a wildflower garden, two rose gardens, the Southern Living garden, and a Japanese garden with a traditionally crafted tea house. Education programs run year round and over 10,000 school children enjoy free science-curriculum based field trips annually.
Birmingham-Jefferson History Museum

Birmingham

The organization currently owns 412 separate collections, containing 8,200 artifacts. Of those, about half are single photographic negatives of local retail, industrial and city scenes from the 1960s and early 1970s. Others range from the 3,300-lb. terra cotta nameplate from the former Birmingham News building, to documents, personal correspondence of Birmingham's prominent citizens, vintage restaurant menus, patent medicine and pop bottles made in Birmingham, and the Blach's Knight -- a 1963 suit of armor used as an advertising symbol by Blach's Department Store.
Birmingham Zoo

Birmingham

The Birmingham Zoo is home to 700 animals from many continents, including many endangered species nestled on 122 acres.
Rickwook Field

Birmingham

America's oldest baseball park.
Red Mountain Park Field Trips

Birmingham

Focusing on students grades K-8, and mainly include history hikes to abandoned iron ore mining structures dating back to the early 1900s, as well as nature walks that will help students understand how years of industrialization can affect a fragile environment.
Sloss Furnaces National Historic Landmark

Birmingham

Sloss Furnaces produced iron for nearly 90 years, which gave rise to the city of Birmingham. Now recognized as a National Historic Landmark, Sloss Furnaces with its web of pipes and tall smokestacks offers us a glimpse into the great industrial past of the South and our nation.
Samuel Ullman Museum

Birmingham

The Samuel Ullman Museum was created to advance Ullman's vision by examining his civic, educational, and religious ideas and endeavors. The museum is a facility of the University of Alabama at Birmingham and exists through the efforts and contributions of citizens and corporations in Japan and the United States. The Samuel Ullman Museum provides visitors with an opportunity to explore the life of the poet and to be inspired by his work.
Southern Environmental Center

Birmingham

The largest educational facility of its kind in Alabama and can handle groups of up to 200 visitors at a time. In addition to its award-winning Interactive Museum and EcoScape Gardens, the SEC is also active in the community. It has initiated a number of model partnerships targeting water quality, smog, and urban sprawl.
Visual Arts Gallery of the University of Alabama at Birmingham

Birmingham

Committed to critically considering and representing a diverse range of arts practices. The Gallery serves as a site for artistic innovation and interrogation through exhibitions, both contemporary and historical, which contribute to discourses on contemporary culture. Of particular interest are experimental practices, installation, film, video, time-based works, performances and digital media.

Visual Arts Gallery of the University of Alabama at Birmingham website
Southern Museum of Flight

Birmingham

Military, civilian, and home-built aircraft on display at the Museum include one of Delta Air Line's first planes -- the Huff Daland crop duster, a full-size Wright Flyer replica, a 1912 Curtiss Pusher replica, a Fokker VII, a VariEze experimental home-built, and two US Air Force fighter jet cockpit simulators. Indoor and outdoor displays.
Bama Bucks

Boaz

All ages are welcomed, we are an exotic/wildlife sanctuary and restaurant! We have a general store, pavilion, and antique barn. Animal admission is $3 per person and Camel Rides are $5 per person!
Russell Cave

Bridgeport

Prehistoric Cultures - For more than 10,000 years, Russell Cave was home to prehistoric peoples. Russell Cave provides clues to the daily lifeways of early North American inhabitants dating from 6500 B.C. to 1650 A.D. The cave shelter archaeological site contains the most complete record of prehistoric cultures in the Southeast.
Central Alabama Paintball Park

Calera

Central Alabama Paintball Park offer a spacious outdoor venue for homeschool families to gather and expel some energy in a safe and supervised environment. With 48hrs notice we can accommodate groups any day of the week. We offer low impact paintball, gellyball, nerf games, rock climbing and numerous other outdoor activities. Our onsite grills and covered picnic tables make Central Alabama Paintball Park a great place for everyone to get out of the house and enjoy a fun filled time outdoors.
Heart of Dixie Railroad Museum

Calera

Welcome to the Heart of Dixie Railroad Museum, the official railroad museum of the state of Alabama. We're located just south of Birmingham in Calera, Alabama. Our museum features operating standard gauge and narrow gauge trains, two restored depots, an indoor collection of railroad artifacts and memorabilia, and an outdoor collection of railroad cars, locomotives, and cabooses. The museum is dedicated to the preservation, restoration, and operation of historically significant railway equipment. Our exhibits, operating railroads, and educational programs function as both a unique means of tourism and recreation, and also a way to preserve the rich history of Alabama and our nation.
Roland Cooper State Park

Camden

Rolling along the 22,000-acre Dannelly Reservoir, this 236-acre park features a nine-hole golf course with clubhouse, spacious vacation cottages, modern campground with bathhouse and laundry, and a scenic picnic area with tables, grills, pavilions and comfort station. With fishing so popular in the reservoir, the park also provides boat launching facilities.
DeSoto Caverns Park

Childersburg

Resting at the foothills of the Appalachian Mountains, DeSoto Caverns Park offers a unique destination for those seeking a fun and educational experience. At our park, we offer guided tours of Alabama's big cave. It's main room is twelve stories high and larger than a football field. The caverns is decorated with thousands of formations making it one of the most concentrated collections in America.
Blue Springs State Park

Clio

Fed by a crystal-clear underground spring, the park's spring pool is the center of attention in this 103-acre park in southeast Alabama. Facilities include modern and primitive campgrounds, picnic shelters, tables, grills, comfort stations, and playground. Blue Springs is open from Memorial Day - Labor Day, 8 a.m. - 7 p.m. and from 8 a.m. - 4 p.m. during the other months.
Lake Lurleen State Park

Coker

Lake Lurleen State Park is named after Alabama's only female governor. Lurleen Wallace, the wife of former Governor George C. Wallace, was a native of Tuscaloosa County. As Governor she was instrumental in funding a major renovation project of Alabama State Parks. Lake Lurleen State Park is located 9 miles Northwest of the cities of Tuscaloosa and Northport, Alabama and is 14 miles from the campus of the University of Alabama, home of the "Crimson Tide." The 1,625-acre park is a scenic lakeside retreat set on the banks of a 250-acre lake. Facilities include a modern campground, activity building, picnic area, play area, pavilions, beach with bathhouse, fishing piers, boat rentals and boat-launch areas.
Karl C. Harrison Museum of George Washington

Columbiana

Founded in 1982 by Karl C. Harrison, a Columbiana banker and philanthropist, the Karl C. Harrison Museum of George Washington has become an important forum for learning about America's first First Family. Through the foresighted efforts and encouragement of Martha Washington's granddaughter Eliza Parke Custis, family heirlooms have been lovingly passed down through generations. In the early 1980's, Shelby County resident Charlotte Smith, Weaver, a sixth generation granddaughter of Martha, decided to share her legacy with the public, providing the basis of the museum.
Shelby County Historical Society, Inc. Museum & Archives

Columbiana

The Museum displays many old Shelby County photographs and artifacts from the Indian era through WWII; including such items as the bell from the Alabama, a well-known railroad engine during its time, Creek Indian artifacts, the 1906 Shelby County Courthouse cornerstone contents removed 24th June 2006, and three chestnut wood cars and several feet of wood track that were found on the 4th May 1974 in the forgotten Confederate Gurnee Coal Mine in West Shelby County.

Shelby County Historical Society, Inc. Museum & Archives website
Ave Maria Grotto

Cullman

Ave Maria Grotto, known throughout the world as "Jerusalem in Miniature," is a beautifully landscaped, four-acre park designed to provide a natural setting for the 125 miniature reproductions of some of the most famous historic buildings and shrines of the world. The masterpieces of stone and concrete are the lifetime work of Brother Joseph Zoettl, a Benedictine monk of St. Bernard Abbey. Begun as a hobby, with various materials he could find, and infinite patience and a remarkable sense of symmetry and proportion, Brother Joseph re-created some of the greatest edifices of all time.
Cullman County Museum

Cullman

Interactive displays and modern exhibits stand ready for you to experience the rich German heritage, native American lifestyles, adventure of early pioneers and Deep South folklore when you visit with us. The Cullman County Museum opened in 1973 during Cullman's Centennial, and has been collecting and preserving items from the county's unique past ever since. Housed in a replica of Col. Johann G. Cullmann's home (our founding father), the Museum brings the past to life in its displays, paying tribute to the families that made the area their home. Each gallery showcases a different aspect of life in early Cullman.
Oakville Indian Mounds Park and Museum

Danville

The museum is free to the public. There is a small fee for the park. The park and museum offer educational, archeological, genealogical and sociological perspectives of the onsite mounds.
Jesse Owens Memorial Park Museum

Danville

In the 1936 Olympic games in Berlin, a single man captured the attention of the world, winning 4 gold medals, an Olympic first. Sixty years later, thousands gathered to honor this man with the dedication of a park named in his honor, the Jesse Owens Memorial Park. The Jesse Owens Memorial Park Museum immortalizes Owens' memory by depicting the moments that made Owens great and portraying the people who shaped him as an athlete and as a man. The museum's mini-theater shows the movie "Return to Berlin" in which Owens narrates the 1936 Olympics. The museum offers The Decatur Daily Resource Center. Equipped with computers and printers, the center allows visitors to do their own research of this Olympic gold medalist.
American Sport Art Museum and Archives

Daphne

The American Sport Art Museum and Archives (ASAMA), located on the campus of the United States Sports Academy, is dedicated to the preservation of sports history, art and literature. Founded in 1984, ASAMA has recognized the importance of the cultural connectivity of athletic competition and artistic expression since its inception. The gallery preserves the performance and movement of man by creating an awareness of the role art mediums play in capturing our sports heroes and perpetuating their performances for posterity. Arguably one of the most aesthetically pleasing structures in higher education, the museum is located in an artistic atmosphere in the architecturally acclaimed main campus building.
Dauphin Island Sea Lab

Dauphin Island

The lab offers marine science education, marine science research, coastal zone management policy and educating the general public through the Estuarium and public aquarium.
Audubon Bird Sanctuary on Dauphin Island

Dauphin Island

The Sanctuary consists of 164 acres of maritime forest, marshes, and dunes, including a lake, a swamp and a beach.
Fort Gaines

Dauphin Island

Historic Fort Gaines is located on Dauphin Island. The property boasts a wildlife sanctuary and campgrounds created from sand dunes excavated out of the walls of the fort. Families can experience three centuries of history while enjoying nature walks, a scenic lake, beaches and fishing piers.
Horseshoe Bend

Daviston

The Battle of Horseshoe Bend can be viewed as a multi-national struggle between the forces of the Creek, the Cherokee, and United States.
Point Mallard Park

Decatur

Offers the great outdoors like you've never experienced it before. Hidden among North Alabama's wooded pines, the 500-acre family park lets you stay in tune with nature 365 days a year. Come play 18 holes on one of the South's best golf courses, stay in a 25-acre, wooded campground, visit America's first wave pool at the seasonal Waterpark, and cool off year round at the indoor ice skating rink.
Carnegie Visual Arts Center

Decatur

The Carnegie Visual Arts Center offers the community the opportunity to experience the visual arts in a personal, relaxed and meaningful way. The Carnegie presents eight to ten (8-10) exhibitions annually showcasing the works of local, regional and national artists. In 2007, the Carnegie was given a collection of Alabama Folk Art which is the basis of a permanent collection to be exhibited at various times throughout the year. While the Carnegie is considered a "non-collecting" institution, this contribution now allows the Carnegie to reach a very special audience that embraces the significant contributions of self-taught artists from the great state Alabama.
Cook Museum of Natural Science

Decatur

The Cook Museum of Natural Science is a state-of-the-art natural science museum in downtown Decatur, AL. It provides a hands0on, immersive experience where kids can explore, interact with, and learn about nature. You'll leave the Cook Museum feeling fulfilled by the memories made and amazed by the things you saw and learned.
Cheaha State Park

Delta

Located in Clay and Cleburne Counties, Cheaha State Park is the pinnacle of natural beauty and awe in Alabama. Surrounded by the Talladega National Forest, this foothill of the Appalachian Mountains holds the reputation of the highest point in Alabama. Standing 2,407 ft. above sea level, it is no wonder why the local Creek Indians named this place "Chaha," meaning high place. Its continuous operation since 1933, makes Cheaha, Alabama's oldest continuously operating State Park.
Gaineswood

Demopolis

One of America's finest Greek Revival houses, Gaineswood is a masterpiece. Exceptional interior spaces have domed ceilings, elaborate plasterwork, and a facing pair of gilt mirrors that endlessly reflect each other. Designed by owner and amateur architect General Nathan Bryan Whitfield, Gaineswood was constructed during 1843-1861. Some of the elaborate work was executed by African American slaves. The house museum contains many original Whitfield family furnishings and objects. The grounds feature a gazebo, a slave house, and a small building that was most likely a detached kitchen.
Alabama Mining Museum

Dora

Located in 1935 gym built by WPA. 1900s train, mining cars, one-room Black school, Old Wyatt Elementary School, 1900s Kellerman Post Office, Oakman Depot.
Adventureland

Dothan

Go-Karts, Batting Cages, Bumper Boats, Arcade, Snack Bar, Team Party, Miniature Golf, Parties and Water Wars.
Official Alabama Agricultural Museum

Dothan

The official Agricultural Museum for the State of Alabama is Dothan Landmark Park in Dothan, AL. Landmark Park is a 100 acre facility dedicated to preserving the cultural and natural heritage of the wiregrass region of Southeast Alabama. Owned and operated by Dothan Landmarks Foundation, the park features an 1890s living history farm, a one-room schoolhouse, a general store, and a turn-of the-century church. The park also includes elevated boardwalks, nature trails, wildlife exhibits, a planetarium, and a picnic area. In addition, Landmark Park also serves as headquarters for the Alabama Agricultural Museum Board.
G.W. Carver Interpretive Museum

Dothan

The museum is a tribute to Dr. Carver as a proud symbol of achievement. His role as a catalyst for southern agronomic prosperity and his creative genius which opened new scientific and financial vistas continues to enrich us. Major features include an overview of the historical scope of contributions and achievements of African and African descended cultures as reflected by Dr. Carver. The Gallery of Black Scientists, Inventors, and Explorers will feature major historic events in these areas by African Americans. The strong presence of blacks in each military event in United States history and the heroes of social progress events are depicted in the Gallery of Heroes.
Wiregrass Museum of Art Conference Center

Dothan

The Wiregrass Museum of Art & Conference Center is a not-for-profit organization dedicated to providing art, art education and art experiences to the Wiregrass region. Our focus is American and Southern fine, decorative, and design arts from 1945 to the present; American works on paper from 1945 to the present; both areas emphasize, but are not be limited to, Alabama Artists and women artists.
Baldwin County Heritage Museum

Elberta

A museum is a way of seeing. Exhibits tell a story with objects and images. The Baldwin County Heritage Museum is not filled with elaborate antiques or expensive collections -- it holds bits and pieces collected from the daily lives of the men and women who built this county. BCHM represents the grass roots of our society. Over 20,000 square feet covering 5 acres provide a place for visitors to reconnect with the early history of Baldwin County. The museum believes that individuals who are allowed to reach out and touch the past will hold the future with greater care. Experience the heritage -- and share the culture of Baldwin County.
Lakepoint Resort State Park

Eufaula

This picturesque 1,220 acre park is located on the banks of 45,000 acre Lake Eufaula, otherwise known as the "Bass Capital" of The World". The park has a lodge, convention center, modern campground, vacation cabins and lakeside cottages, picnic areas, 18-hole golf course and a marina complete with launch facilities and boat slips.
Eastern Shore Art Center

Fairhope

The Eastern Shore Art Center is located in beautiful downtown Fairhope, Alabama and houses five galleries with exhibits that change monthly, as well a gallery featuring member artists' work for sale. The Academy offers a wide variety of classes and workshops in five spacious studios. Classes are offered on a quarterly basis to both adults and children. The Art Center is open to the public Monday - Friday, from 10 a.m. to 4 p.m. and on Saturdays from 10 a.m. to 2 p.m. Admission is free.
Fairhope Museum of History

Fairhope

For an exciting view into Fairhope's past, please visit the Fairhope Museum of History. The museum is full of artifacts from old Fairhope. You can see displays on Clay City, the Single Tax Association and the Civil War. You can also see personal belongings from some of Fairhope's first families. The museum is located in downtown Fairhope at 24 North Section Street. The museum is open Monday - Saturday from 9 a.m. to 5 p.m. For more information on the museum, call 929-1474.
Turtle Point Science Center

Flomaton

Turtle Point Science Center is an adventure in hands-on science exploration. Since opening in October 1999, Turtle Point has educated and entertained thousands of school children and visitors from all around the world. Situated on 20 acres adjacent to Big Escambia Creek, the Center is home to a variety of reptiles, amphibians, birds, fish, and mammals. In addition to animal encounters, visitors enjoy a butterfly house, vegetable garden, herb garden, fish pond, and boardwalk. Please call to schedule a field trip or group tour, or just stop by and visit. Turtle Point is open to the public from 8 am until 3 pm when school is in session. Please call for specific closures (251) 296-3401.
Florala State Park

Florala

Stretching along the shores of beautiful 500-acre Lake Jackson, this compact 40-acre park offers swimming, paddleboat rentals, fishing and picnicking, as well as a complete community building and a modern lakeside campground. Water skiing and personal watercraft are allowed on the lake. Located on the Alabama/Florida state line, this park has the perfect climate for campers seeking to avoid those harsh winter months up north.
Children's Museum of the Shoals

Florence

The Children's Museum of the Shoals, Inc. offers hands-on exhibits and programs geared specifically to the developmental stages and needs of children. Our mission is to further classroom education and compliment existing cultural and educational resources. Exhibits and activities encourage children to imagine, make choices and create. These exhibits enable children to discover different cultures, values and occupations, as well as to demystify science, technology and the arts.
The Rosenbaum House - Frank Lloyd Wright

Florence

An American architectural treasure, this house was built for newlyweds Stanley and Mildred Rosenbaum of Florence, Alabama, in 1939. The house is the only structure designed by Frank Lloyd Wright in the state of Alabama, and the only such house in the southeast that is open to the public.
W. C. Handy Home, Museum & Library

Florence

"Where the Tennessee River, like a silver snake, winds her way through the red clay hills of Alabama, sits high on these hills my hometown, Florence." William Christopher Handy begins his autobiography, Father of the Blues, with these words. W.C. Handy was born in a small log cabin in Florence on November 16, 1873. Handy became famous for his blues compositions such as "Memphis Blues" & "St. Louis Blues". He was also a musician, band conductor, and author. The museum houses a collection of memorabilia, musical instruments, personal papers and original sheet music. Handy's famous trumpet and his personal piano are just a few of the items on display. W.C. Handy died in New York in 1958. His hometown of Florence honors the legacy of the "Father of the Blues" with a birthday party at the museum each November 16th and with the week-long W.C. Handy Music Festival during the summer.
The Kennedy-Douglass Center for the Arts

Florence

Houses the administrative office for the Florence Department of Arts & Museums and functions as a center for cultural activities including the Kennedy-Douglass volunteers meetings, the Shoals Artist Guild meetings, Arts Alive administration and activities, W.C. Handy Festival activities, and much more. The center also houses a permanent exhibit of historical artifacts and memorabilia, and offers a variety of traveling art exhibitions. The center consists of two adjacent houses with an added walkway connecting them, and a carriage house to the rear. The buildings are all listed on the National Register of Historic Places.
Pope's Tavern Museum

Florence

At one time a stagecoach stop, tavern and inn, Pope's Tavern is one of the the oldest structures in Florence. Located on the military road that connected Nashville to the Natchez Trace and on to New Orleans, the tavern was an ideal stop-over for weary travelers in the 1800's. Legend has it that Andrew Jackson stopped here on his march to the Battle of New Orleans. It served as a hospital for both Confederate and Union wounded during the Civil War. The wounded were brought here from as far away as the Battle of Franklin, Tennessee, and Shiloh. Later home to the Lambeth family, it remained a private residence until purchased by the city in 1965. The museum houses beautiful antiques and fascinating artifacts from the 18th and 19th centuries illustrating the uses of the structure as a tavern, inn and private residence. The second floor is filled with artifacts from the Civil War and items of local history. The museum is operated for the purpose of displaying, teaching, and interpreting the cultural history of Florence and the Shoals area. The annual Frontier Day Celebration takes place at the museum the first full weekend of June with demonstrations of pioneer crafts and dulcimer music.
Graham Creek Nature Preserve

Foley

Foley's Graham Creek Nature Preserve is home to hundreds of plant and wildlife species, among almost 500 acres of natural habitats including pine savannas, bottomland wetlands, mixed forests and tidal marshes. Amenities include the Indoor/Outdoor Interpretive Center and the popular Nature Explore Outdoor Classroom and Learning Stations. These are great play and learning areas that are incorporated into the educational programs for preschool through high school where environmental education is mixed with culture, history and imagination.
Little River Canyon National Preserve

Fort Payne

Little River Canyon National Preserve is unique because it flows for most of its length atop Lookout Mountain in northeast Alabama. Forested uplands, waterfalls, canyon rims and bluffs, pools, boulders, and sandstone cliffs offer settings for a variety of recreational activities. Natural resources and cultural heritage come together to tell the story of the Preserve, a special place in the Southern Appalachians.
DeSoto ReSort State Park

Fort Payne

Nestled atop beautiful scenic Lookout Mountain in northeast Alabama, this 3,502-acre park also provides modern chalets, cabins, and campground, as well as a picnic area, swimming pool, tennis courts, nature center with Interpretive programs and live animals, hiking & mountain biking trails, and hotel and meeting rooms in the DeSoto Resort State Park Lodge.
Fort Payne Depot Museum

Fort Payne

Alabama showcasing Indiant artifacts, historical memorabilia from all wars since the Civil War, and more!
Alabama River Museum

Franklin

Travel back in time to an early 1800s camp on the river. Visit with Indians, frontiersmen, traders and travelers. Enjoy music, demonstations and food.
The Central-Carver Legacy Museum

Gadsden

To serve as a catalyst for developing and implementing plans for the construction, operation and maintenance of the Central-Carver Legacy Museum, which will preserve and enhance the culture of the African American community.
Gadsden Museum of Art

Gadsden

The goal of the Gadsden Museum of Art is to support and maintain a museum of local history of the Gadsden and Etowah County area and to support and maintain a museum dedicated to Southern artists.
Mary G. Hardin Center for Cultural Arts

Gadsden

The Center is home to three galleries that feature a wide range of changing national and local exhibits. Centerstage Presents sponsors dinner theaters, courtyard concerts, chamber music and more. Imagination Place Children's Museum located adjacent to the Center for Cultural Arts in the historic Kyle Building. IPCM reaches thousands of children through museum visits and educational outreach. The Gadsden Community School for the Arts which offers instruction in ballet, lyrical jazz dance, strings, woodwind, brass, voice and more. The nationally celebrated Etowah Youth Orchestras featuring 300 talented young musicians.
Chickasaw State Park

Gallion

Rambling in rural Marengo County is Chickasaw's 520-acre roadside park. Complete with modern campsites, wading pool, hiking trails, a barbeque grilling pavilion, plus other large pavilions and picnic areas makes this small park perfect for group-sized cookouts and gatherings. The Park is also located adjacent to the handicapped-accessible, state-operated hunting facility "Turnipseed-Ikenberry Place Physically Disabled Hunting Area".
Magnolia Grove House

Greenboro

Magnificent magnolia trees and a beautiful boxwood garden surround the home. The mansion is filled with original family furniture and the walls are lined with portraits of the Croom and Hobson families. The site includes a detached kitchen and a slave house. Magnolia Grove is a historic house museum located on 15 acres at the west end of Greenboro's historic district. The Greek Revival home was built around 1840 by Colonel Isaac Croom. It is also the boyhood home of Richmond Pearson Hobson, a Spanish-American War hero and a progressive statesman.
Clarke County Historical Museum

Grove Hill

Included on the National Register of Historic Places, the Clarke County Historical Museum is a treasure trove of local history. Housed in an 1854 Plantation Plain-style home, the museum has permanent displays about the county's rich history. One of the most popular exhibits is the fossils of the Zeuglodon, a prehistoric whale than swam in the ocean that covered Clarke County some 50 million years ago. The museum also features exhibits about Native Americans, the Civil War and World Wars, the county's rural life, and an antebellum kitchen. Traveling exhibits are also featured. Visitors may also tour the other historic buildings on the museum grounds.
Buck's Pocket State Park

Grove Oak

As legend goes, Buck's Pocket is where all the defeated public officials go to lick their wounds after an unsuccessful election. This 2,000-acre park in northeast Alabama is secluded in a natural pocket of the Appalachian Mountains chain. The park's picnic area offers a canyon rim natural vista into the pocket below. The pocket itself, on an upstream tributary of Lake Guntersville, hosts an improved campground, complete with tables, grills, shelters, laundry, comfort station, playground and hiking trails.
Alabama Gulf Coast Zoo

Gulf Shores

The Alabama Gulf Coast Zoo - opened in June 1989 as Zooland Animal Park. The zoo, just blocks from the beach, is home to more than 290 animals. Lions, tigers, bears, monkeys and macaws are just some of the creatures that inhabit this Gulf Coast oasis. There's also a petting zoo, reptile house, aviary and daily animal shows in the summer.
Waterville USA

Gulf Shores

Waterville USA is a 20 acres waterpark and amusement park. Waterville is heavily involved in school programs and charities all over the local area.
Gulf State Park

Gulf Shores

Located in the city of Gulf Shores on the coast of Alabama, white sun-kissed beaches, a surging surf, seagulls and seashells greet you at Gulf State Park. Consisting of 6,150 acres with two miles of sugar white sand beaches, Gulf State Park has modern and primitive camping, cottages, trails and fishing. There is also tennis, group pavilions, 18-hole golf course, 900 acre lake for fishing, swimming, and water skiing, nature programs and picnic areas.
Sand Castle University

Gulf Shores

Sand Castle University specializes in teaching the best tools, tips, and tricks of building amazing Sand Castles to groups of all ages and skill levels. We bring our years of experience and specialty sand tools right to your beach location! Available in Gulf Shores, Orange Beach, and Fort Morgan, Alabama.
Lake Guntersville State Park

Guntersville

Newly renovated and once again open to the public, Lake Guntersville Resort State Park is located along the banks of the Tennessee River in NE Alabama. The park overlooks the majestic 69,000-acre Guntersville Reservoir, and ranges over more than 6,000 acres of natural woodlands. The park has an 18-hole championship golf course, a beach complex, fishing center, hiking trails, nature programs and a day-use area. Modern campground and lakeview cottages on the lake, coupled with a resort lodge on the pinnacle of Taylor Mountain, and chalets on the ridge-tops provide a selection of overnight accommodations beyond comparison.
Guntersville Museum & Cultural Center

Guntersville

Welcome to the Guntersville Museum & Cultural Center, now located in our brand new home at the historic rock Armory. With its location at the southernmost point of the Tennessee River, Lake Guntersville provides a unique vantage point on history and the culture of the region. As a living repository, the Museum offers visitors a chance to explore everything from Native American artifacts to interesting local personalities.
Selma to Montgomery National Voting Rights Trail

Hayneville

Established by Congress in 1996 to commemorate the events, people, and route of the 1965 Voting Rights March in Alabama. The website offers historical information about the march for those who cannot visit in person.
Pond Spring, The General Joe Wheeler Home

Hillsboro

Located near Courtland, Alabama, Pond Spring was home to Joseph Wheeler, former Major General of Cavalry of the great Confederate western army, The Army of Tennessee. Wheeler was also a long-time U.S. Congressman following the Civil War, and yet again became a Major General during the Spanish-American War (U.S. Army this time). A man with a well-earned name, "Fightin' Joe" Wheeler became a national symbol for reunification and reconciliation following the Civil War and throughout the latter half of the 19th Century. As the U.S. Congressman, he largely contributed toward the progressive economic direction the northern section of Alabama would pursue during the 20th Century.
US Space and Rocket Center

Huntsville

From Space Camp to exhibits, there is something for everyone at this great museum.
The Veterans Memorial Museum

Huntsville

Educational institution for the purpose of historical preservation, public display, and public education. The Museum is dedicated to promoting and disseminating the accomplishments of American military men and women. Our emphasis is on participants of World War I and subsequent conflicts, whose survivors and families can use the Museum facilities to reminisce on their own experiences and those of parents, grandparents, and other close relatives.
Early Works Museums

Huntsville

Civil War soldiers, a Talking Tree and whimmy diddles - see them all at the EarlyWorks Museums- Alabama Constitution Village, the Historic Huntsville Depot and EarlyWorks Children's History Museum.
Monte Sano State Park

Huntsville

Monte Sano, Spanish for "Mountain of Health," rises more than 1,600 feet above sea level. The mountain has attracted visitors since the mid 1820's with the establishment of the town of Viduta, a derivative of the Spanish word "Vida," meaning life. Viduta was home to a sanatorium and a hotel resort, Hotel Monte Sano, which opened its doors in 1887 and closed in the early 1900s due to a declining economy
Huntsville Museum of Art

Huntsville

Visit the Huntsville Museum of Art in our beautiful location in Big Spring International Park. Take a stroll through our latest exhibitions, admire student artwork in the Children's Community Gallery, sign up for an art class at the Museum Academy, and shop for local artwork in SPACE 300.
Von Braun Center Playhouse

Huntsville

Snow White is not waiting for a knight in shining armor! She's much too busy working to provide clean water for the Littles and all the creatures of the Nysland Woods. But when her mission is halted by the jealous Queen and her magic mirror, Snow will need the help of her forest friends to save herself and the entire village. Can the Littles rescue her in time, or will the Queen's vanity reign supreme? Find out in this new twist on a classic about kindness, community, and the true meaning of beauty. Written by Stephen Tyler Davis, Huntsville native, and Fantasy Playhouse Alumni.
Burritt on the Mountain

Huntsville

Burritt on the Mountain -- A Living Museum has been referred to as a "Jewel on the Mountain." Start with Dr. William Henry Burritt's eclectic mansion, add a historic park with restored 19th century houses including barnyard and animals, and finally throw in the artistic side with concerts, plays and exhibits, and you have a delightful mixture of old and new for young and old! Stroll through the park and enjoy the sights and sounds of the barnyard. Listen carefully and you may hear the fiddler on the front porch. Meticulously restored historic buildings, authentic 19th Century crops, and living history interpreters demonstrating common lifeways of the past will add to your educational visit. Please ask lots of questions. Our interpreters are always pleased to share their knowledge with you. Offer daycamps, programs for homeschoolers and educators.
Huntsville Botanical Garden

Huntsville

The Garden provides a variety of opportunities for individuals and groups to expand their knowledge of plants and nature. Programs are offered for adults and children, individually and in groups. The Nature Center/Butterfly House is open May through September.
The North Alabama Railroad Museum

Huntsville

A facility reflecting a love of trains and a desire to preserve railroad history.
SIFAT- CARES Programs

Lineville

SIFAT offers interactive field trips or CARES Programs to public, private, Christian and home school students, as well as youth groups and scout troops. Our curriculum provides students of all ages an opportunity to participate in hands-on activities with an international perspective. Where else can students (and chaperones) sample cultures from Asia, Africa and Latin America? Make bricks from clay and straw? Explore sources of alternative energy--and much more? CARES field trips are cross-culturally oriented, take place within SIFAT's Global Village and are available throughout the year.
The Center for the Study of the Black Belt

Livingston

The primary objective to the Black Belt Museum is to collect, preserve, interpret, and exhibit natural history specimens and historic artifacts, craft, and artworks from the central Black Belt. The collection includes a number of objects from Native American, European American, and African American cultures, such as fossils, rock and minerals, plants and animals, historical and archaeological artifacts, and archives. The current activities of the Black Belt Museum include, but are not limited to, digital documentation of the art and fossil collections, creation of a database for the information, accessioning archival materials in possession of the Museum, and solicitation of archival materials for the Museum's collection.
Lee County Historical Society

Loachapoka

On the second Saturday of every month, a group of history re-enactors gather at the LCHS Museum in period attire to demonstrate their arts and crafts. Blacksmiths are usually working at the forge, spinners and weavers are in the log cabin, and someone is always cooking up a meal in the fireplace or outdoors. On most Second Saturdays, a dulcimer class and jam session is held at 2:00 pm. The Museum is always open on Second Saturdays.
Confederate Memorial Park

Marbury

Confederate Memorial Park is the site of Alabama's only Confederate Soldiers' Home. The 102 acre park includes a nature trail, two cemeteries, the original hand-dug spring and 86,000-gallon reservoir, the Mountain Creek Post Office (circa 1900) and the Marbury Methodist Church (circa 1885). A state-of-the-art museum offers exhibits on the life of an Alabama Confederate veteran from recruitment to old age, hundreds of artifacts from the Civil War and the Soldiers' Home and interactive media stations. Be sure to visit during the annual Civil War Living History in April.
Alabama Women's Hall of Fame

Marion

The Alabama Women's Hall of Fame, which occupies the main floor, was established to provide a permanent place of honor for Alabama's most outstanding women and a place for people to visit and learn about the significant contributions that these women have made to our state and nation. Visitors will have the chance to meet women from the past--some well-known and some who have been overlooked in the history books. Stories of Helen Adams Keller, Julia Strudwick Tutwiler, Amelia Gayle Gorgas, Tallulah Bankhead, Mildred Westervelt Warner and others are told through portraits, photographs, letters, and bronze plaques.
Air Force Enlisted Heritage Research Institute

Maxwell AFB

Dedicated to preserving the rich and dramatic heritage and tradition of the enlisted corps of the U.S. Air Force and U.S. Army Aeronautical Division, Air Service, Air Corps and Air Forces in the development of air power to defend the United States.
The Iron & Steel Museum of Alabama

McCalla

The Iron & Steel Museum of Alabama is a southeastern regional interpretive center on 19th century iron making technology featuring both belt driven machines of the 1800s and tools and products of the times. It focuses on the Roupes Valley Ironworks at Tannehill which operated nearby, first as a bloomery beginning in 1830 and later as an important battery of charcoal blast furnaces during the Civil War. The ironworks gave birth to the Birmingham Iron & Steel District. Along with Tannehill artifacts that have survived, museum exhibits graphically demonstrate how iron was made during the Civil War when 14 different iron companies and six rolling mills made Alabama the arsenal of the Confederacy. During the last two years of the war, Alabama furnaces produced 70% of the Confederate iron supply. Exhibits include a display of rare CS artillery projectiles manufactured at the Selma Arsenal and Gun Works, a part of the Steve Phillips Collection, along with Civil War weaponry actually used in battle including a 52 Cal. U.S. Spencer Repeater.
Alabama Nature Center

Millbrook

The Alabama Nature Center provides fun and exciting field trip opportunities for homeschool students in grades Pre-K through 12 through a multi-disciplinary approach using conservation education. Staff will choose and plan activities in regards to special topics requested by the teacher, group timetables, weather, and seasonal variations. From fishing in the catfish pond to netting for tadpoles, students are sure to enjoy their time outdoors during a Lanark Field Day.
Gulf Coast Exploreum

Mobile

With more than 100 interactive exhibits, thought-provoking larger-than-life IMAX films, and fun, hands-on educational programming, the Gulf Coast Exploreum Science Center aspires to increase science literacy among the people of south Alabama and the Gulf Coast region, residents and visitors alike. The Exploreum includes exhibits for all ages, including infants & toddlers.
Flight Works Alabama

Mobile

Spearheaded by Airbus and the State of Alabama, Flight Works Alabama is a comprehensive aerospace exhibition and education center, now open in Mobile. Flight Works Alabama's 15,000 square foot facility houses over 40 hands-on exhibits, a classroom, workshop, fabrication room, drone aviary, and more! Though Flight Works Alabama will be the starting point for tours of the Airbus A320 Manufacturing Facility, the education center will provide the opportunity to tell an aviation story beyond Airbus. All ages are welcomed and we offer group/field trip rates for groups of 10 or more.
The Conde-Charlotte Museum

Mobile

Near the banks of the Mobile River, the Conde-Charlotte Museum began its life as Mobile's first courthouse and jail, eventually becoming the beloved home of the Kirkbride family. It now stands as a historic house museum, full of antiques, period furnishings, and stories, which reflect Mobile's history under five flags: French, English, Spanish, Confederate and American. The Conde=Charlotte Museum is owned, preserved and operated by the National Society of the Colonial Dames of America in the State of Alabama.
Mobile Museum of Art

Mobile

The mission of the Mobile Museum of Art is to provide a place where people enrich their lives through interaction with the visual arts in thought-provoking and creative ways that nourish and delight the mind and spirit. For the fundamental purpose of education, the Museum collects, conserves, exhibits, interprets and researches art.
Bragg-Mitchell Mansion

Mobile

The Bragg-Mitchell Mansion is open to the public for guided tours. Tuesday - Friday, 10:00 - 4:00, Last tour begins at 3:00, 1855 Mobile's grandest Antebellum mansion.
Center for Archaeological Studies

Mobile

Archaeologists are rediscovering the lives of ancient people of the Gulf coast, the towns of early colonists, and remnants of historic Mobile beneath the streets of the modern city. Explore our website to see what the Center for Archaeological Studies has unearthed.
Mobile Carnival Museum

Mobile

Highlights the history of Mardi Gras in its true birthplace - Mobile Alabama.
Mobile Medical Museum

Mobile

The collection of artifacts and documents now comprising the Mobile Medical Museum began in 1962 with a gift donated by Patricia Heustis Paterson as a memorial to her father, James F. Heustis, M.D. (1828-1891), a native Mobilian with an outstanding medical career. Samuel Eichold, II, M.D. encouraged Mrs. Paterson to designate that her gift be used to start a museum in her father's name. There were approximately 100 artifacts and documents in the initial collection.
The Museum of Mobile: Historic Fort Conde and Phoenix Fire Museum

Mobile

Historic Fort Conde was founded in 1702 at 27-Mile Bluff up river, and relocated in 1711 to the current site where a temporary wooden stockade fort was constructed to protect the town. Fort Conde protected Mobile and its citizens from 1723-1820. It was built by the French as a defense against British and Spanish attack on the strategic location of Mobile and its Bay, the eastern most part of the Louisiana colony. The military importance of Mobile and Fort Conde was huge. The fort and town protected access into the strategic lands between the Mississippi River and the Atlantic colonies along the Alabama and Tombigbee Rivers. The Phoenix Fire Museum is in the restored home of the Phoenix Volunteer Fire Company No. 6. This building houses turn-of-the-century horse-drawn steam engines and early motorized vehicles. The gallery on the Second Floor recounts the history of the volunteer fire companies of Mobile from their organization in 1838.

The Museum of Mobile: Historic Fort Conde and Phoenix Fire Museum website
Gulfquest/National Maritime Museum

Mobile

At GulfQuest, you'll find a treasure chest of educational programs, workshops and events that expand on the maritime principles, traditions and history of the Gulf of Mexico. GulfQuest's mission is to inspire people of all ages and backgrounds to understand and appreciate the Gulf Coast's rich maritime heritage through exhibits, programs and activities. Through our education programs, we hope to raise awareness of the Gulf's significance and inspire youth to pursue educational opportunities and careers in maritime research and industries that are vital to the Gulf Coast.
Historic Mobile Preservation Society

Mobile

Historic Mobile Preservation Society was founded in 1935 as a grassroots membership group dedicated to preserving the tangible links to the past for the benefit of present and future generations. HMPS's mission includes curating the Oakleigh Historic Complex, a 19th-century museum and archives campus in the heart of one of Mobile's most beautiful historic districts.
USS Alabama *

Mobile Bay

Virtual field trip onlineCourage comes alive at Battleship Memorial Park, one of America's finest military parks. Here, along the shores of Mobile Bay, you'll experience heroism spanning more than seven decades from World War II to Desert Storm. View the battleship USS Alabama along with a submarine and many aircraft.
Fort Morgan

Mobile Bay

Construction began 1819, completed 1834. Large brick fort serviced the Civil War, Spanish-American War and both world wars. It played a major role during the Battle of Mobile Bay (1864). Museum details fort's history.
Monroe County Heritage Museums

Monroeville

Home of the Monroe County Heritage Museums' office, the Old Courthouse Museum sits on the historic downtown square of Monroeville, Alabama.
The Old Courthouse Museum

Monroeville

The Old Courthouse Museum serves as an important link between the county's colorful past and the events of today. Located in the Old Monroe County Courthouse on the Monroeville town square, the museum provides a variety of events and activities to attract people of all ages and backgrounds throughout the year. Monroeville is best known as the home of Pulitzer Prize-winning author Harper Lee and her childhood friend, Truman Capote. Each year, in May, a production of "To Kill A Mockingbird" is presented at the Old Courthouse Museum by a local amateur group, the Mockingbird Players. The museum houses 3 permanent exhibits: Celebrating 100 Years: Old Monroe County Courthouse, Truman Capote's: A Childhood in Monroeville , and Harper Lee.
Burnt Corn Baptist Church

Monroeville

The history of the Burnt Corn area begins hundreds of years ago. Since this was part of the Creek Indian Nation, Burnt Corn was probably an Indian village. The Three-Notch Trail went through the area, leading to Pensacola, a major trading post. The U.S. Government, with Indian permission, widened the path for mail wagons traveling from Washington to New Orleans and the route became known as The Old Federal Road. In 1813, the Battle of Burnt Corn opened the Creek Indian War. After the 1814 treaty at Fort Jackson (Toulouse), travelers on the Old Federal Road began settling in Alabama, then under the jurisdiction of the Mississippi Territory.
The American Village

Montevallo

Over a quarter of a million students have made history at American Village, experiencing the past with a visit to this unique interactive colonial classroom. Students from every grade level participate in experiential learning every day. American Village is unique in its mission to strengthen and renew the foundations of American liberty and self-government through citizenship education. More than a field trip, American Village educational programs are tied directly to objectives in the state course of study and graduation standards. Lesson plans can be downloaded from our website.
Alabama State Capitol

Montgomery

For 150 years the Alabama State Capitol has overlooked downtown Montgomery from its hilltop setting. This National Historic Landmark is a working museum of state history and politics. A little more than a century later in the spring of 1965 the Selma to Montgomery March for voting rights culminated at the capitol steps. Dr. Martin Luther King, Jr. made one of his greatest speeches to an estimated 25,000 people. Guided tours are offered at 9:00, 11:00, 1:00, and 3:00. Appointments are not required.
Freedom Rides Museum

Montgomery

The Freedom Rides Museum is a Civil Rights museum and historic site that shares the story of the Freedom Riders, a group of young adults whose incredible bravery and determination to stand up for their beliefs ultimately led to the desegregation of inter-state travel in the United States. All ages are welcome, and this is a particularly insightful trip for high school students and those studying Civil Rights history. Offering guided and self-guided experiences that include art and history. All facilities are ADA accessible, and the museum offers group, family, military, and AAA discounts.
Montgomery Museum of Fine Arts

Montgomery

For seventy years, the Montgomery Museum of Fine Arts has been a showcase for the visual arts in Central Alabama. A primary focus of the Museum's mission is collecting and preserving works by some of history's best known, and some of our region's best loved artists. The key word for education at the Montgomery Museum of Fine Arts is interaction. Programs follow the philosophy that people learn by doing and by interacting with materials, objects and other people.
Alabama Department of Archives & History Museum *

Montgomery

Virtual field trip online"To tell the story of the people of Alabama by preserving records and artifacts of historical value and promoting a better understanding of Alabama history."
Rosa Parks Library and Museum

Montgomery

The only museum dedicated to the civil rights icon. Occasionally hosts virtual tours if you can't be there in person.
E.A.T. South

Montgomery

E.A.T. south offers an interactive field trip. Throughout the approximate 1.5-2-hour field trip, students learn how each part of our farm works to sustain a healthy ecosystem. During their field trip, students gain hands-on experience with standards-based lessons and enjoy an amazing day outside on our beautiful farm conveniently located in Downtown Montgomery on the Riverfront.The field trip features new and exciting learning experiences for kids and adults. From planting seeds in the greenhouse to trying on a beekeeper suit, this is a field trip you won't want to miss!
Dexter Avenue King Memorial Baptist Church & Parsonage

Montgomery

he church where Dr. Martin Luther, King, Jr. pastored from 1954-1960 and began his quest for civil rights. Currently pastoring is Reverend Michael F. Thurman. Guided tours of the church and parsonage are available. Here you can find hours and historical information about the church and the Civil Rights movement. In this National Historic Landmark, see the modest pulpit where Rev. Martin Luther King, Jr. first preached his message of hope and brotherhood. This church was also a center point of the Montgomery bus boycott. A large mural in the church depicts King's civil rights crusade from Montgomery to Memphis.

Dexter Avenue King Memorial Baptist Church & Parsonage website
Hank Williams Museum

Montgomery

Containing the most complete collection of memorabilia, the Official Hank Williams Museum is located in Downtown Montgomery where Hank lived from 1937 - 1953. Come and visit the place where the man who left his mark on the Musical world, will inevitably leave his mark on you.
Montgomery Zoo

Montgomery

Penetrate deep into the jungles of South America. Travel the savannahs of Africa or the hilltops of Asia. Venture the tall grasses of the North American plains. See the Zebras graze on the plains while white tigers roam nearby. Or just visit your Montgomery Zoo and see it all. If you haven't been to the Zoo in a while, you are missing out on a fun-packed and educational adventure. Our residents include over 500 animals from five different continents, all housed in natural, barrier-free habitats. The Zoo spans over 40 beautifully landscaped acres, offering you a magnificent view of exotic wildlife and endangered species. By leisurely stroll, or with a ride on the miniature train, the Montgomery Zoo is a sight to see!
Mann Wildlife Learning Museum

Montgomery

Located at the Montgomery Zoo, the museum includes one of the nation's finest collections of professionally presented North American wildlife. The collection also includes freshwater and saltwater fish, reptiles, birds, small mammals and more. visitors can see families of North American bear, deer, fox, skunk and cat.
The MOOseum

Montgomery

The MOOseum opened in 1995 and offers a fun and interactive way for people of all ages to learn about Alabama's $2 billion beef cattle industry. Each year, about 10,000 school children and adults tour The MOOseum.
The National Center for the Study of Civil Rights and African-American Culture

Montgomery

The Center focuses on documenting and preserving memorabilia from the civil rights period, Montgomery black history, and the history of Alabama State University.

The National Center for the Study of Civil Rights and African-American Culture website
Old Alabama Town

Montgomery

The South's premier history village. Old Alabama Town is a collection of authentically restored 19th and 20th century structures. Step back in time and experience over 100 years of history as you embark on a journey where you will see meticulously restored and furnished buildings reflecting the lives of the people who settled and developed Central Alabama. Each building creates its own distinctive image of living and working in Alabama's past. You will see a cross-section of the way life was from the elegant townhouse lifestyle to rural pioneer living.
WaterWorld

Montgomery

Water World is a fantastic spot to have a special group. Attraction features include a large wave pool, slides, a kiddie pool and picnic facilities in Westgate Park. Children of the 21st century will enjoy visiting this adventurous water park because of its fantastic and exciting attractions.
Alabama Supreme Court & State Law Library

Montgomery

This is the oldest law library in Alabama, and the second oldest library in the state, dating from 1828 when it was located in the capitol in Tuscaloosa. The Library provides access to all appellate cases in the United States; all the laws passed by legislatures of the 50 states and the District of Columbia; Acts of Congress; the United States Code; and federal agency regulations. An excellent collection of legal treatises is available, including scholarly works, practice materials for the legal professional and for the self-represented individual.
W. A. Gayle Planetarium

Montgomery

The W.A. Gayle Planetarium features over 200 theater style seats and is one of the largest Planetariums between Atlanta and New Orleans. During the past five years, close to 100,000 K-12 students have attended a variety of daily educational shows offered at the Planetarium. See displays from NASA, and visit the Planetarium Gift Shop. It's Out of this World!!!
Natchez Trace Parkway

Natchez Trace Parkway

The 444-mile Natchez Trace Parkway commemorates an ancient trail that connected southern portions of the Mississippi River, through Alabama, to salt licks in today's central Tennessee. Today, visitors can experience this National Scenic Byway and All-American Road through driving, hiking, biking, horseback riding, and camping. The website offers historical information about the parkway for those who cannot visit in person.
Kentuck Art Center

Northport

It's the place between tradition and tomorrow, nurturing our Southern folk art roots while showcasing emerging American craft artists. How has this West Alabama enclave on the banks of the Black Warrior River become a favorite destination for collectors worldwide? Come see for yourself.
Museum of East Alabama

Opelika

The museum now houses over 5,000 artifacts including both 19th, and 20th century local, state and general history items. Noteworthy collections at the museum include Roanoke Dolls, Camp Opelika items (a WW II POW camp), and area business history.
Frank Jackson State Park

Opp

This 2,050-acre park is proud to serve as a premier fishing destination with its 1,000-acre stream-fed lake. As the primary park attraction, Lake Jackson, in addition to providing outstanding fishing and swimming opportunities, also features shoreline picnic areas. Lakefront RV camping sites with cable TV hookups and a nice modern bathhouse make it a great camping destination. There's also a natural island, with a boardwalk and walking path.
Dolphin Cruises

Orange beach

During the cruise, which usually lasts ninety minutes, passengers on-board will observe dolphins in their natural environment, learn about the waterways and various local wildlife from our crew, and, view the famous "Double Surf."
Coastal Art Center of Orange Beach

Orange Beach

The Coastal Arts Center campus overlooks scenic Wolf Bay and offers many artistic experiences with a breathtaking view. The stunning 10,000-square-foot fine art gallery features a spacious two-story building displaying works by Gulf Coast artists. Our campus is also home to The Hot Shop, Alabama's premier hot glass blowing studio where you can make your own glass piece! Or, come play in the clay at our Clay Studio, where you can throw on the wheel or hand build your own creation.
Old Cahawba

Orrville

"Alabama's most famous Ghost Town". Cahawba was once Alabama's state capital (1820-1826) and a thriving antebellum river town. It became a ghost town shortly after the Civil War. Today it is an important archaeological site and a place of picturesque ruins. Nature has reclaimed much of Old Cahawba, but historians and archaeologists from the Alabama Historical Commission are working hard to uncover Cahawba's historic past and to create a full time interpretive park.
Oak Mountain State Park

Pelham

As Alabama's largest park, Oak Mountain provides 9,940 acres of pine-studded ridges and lush green hardwood bottoms. The park offers vacation cottages, golf, pro shop with snack bar, improved camping, picnicking, swimming, boating, fishing, hiking, mountain bike trails, backpacking, a demonstration farm and horseback riding facilities. With the largest area and variety of outdoor recreational pursuits, Oak Mountain is sure to provide excitement for every member of the family!
Alabama Wildlife Center

Pelham

The Alabama Wildlife Center is Alabama's oldest and largest wildlife rehabilitation center, providing care annually for nearly 2,500 native birds, mammals, and reptiles of over 100 species, in order to return them to the wild. Located in the heart of Oak Mountain State Park, the Center's educational mission is to arouse awareness and concern for Alabama's native wildlife and the problems they face because of the rapid spread of human activity. Visitors are welcome to tour the Center and experience the fascinating details of wildlife rehabilitation.
Joe Wheeler State Park

Rogersville

Joe Wheeler Resort State Park, located on Wheeler Lake, offers many types of boating, resort lodge, restaurant, cabins, camping, fishing, golf, tennis, and swimming. Whether you're boating along The Great Loop and looking for a place to stop for a night, or you're looking for a great place for recreation and relaxation, this resort park has everything to offer!
Heritage Center Museum

Scottsboro

The Heritage Center, opened in 1985, is both a historical and a cultural museum dedicated to representing the rich history, customs, traditions and art of Jackson County. The museum is composed of three separate exhibit areas: The ante-bellum "Brown-Proctor House," the pioneer village named "Sagetown," and the "Little Courthouse." A complete tour begins by taking visitors back in time over 12,000 years to the period when Native Americans first entered Jackson County. Visitors are able to view artifacts from this period. Visitors learn the technological and cultural advances that brought the Native Americans from the Paelo and Archaic periods through the Woodland period and finally to the Mississippian Period. Visitors then learn about various tribes that were in the area when the first explorers arrived and, later, when the first settlers arrived.
Paul M. Grist State Park

Selma

Tranquility prevails in this beautiful 1,080-acre park as visitors enjoy the relaxing atmosphere around the park's 100-acre lake. Recreational opportunities include swimming, fishing, boating, picnicking, hiking and camping.
Trail of Tears National Historic Trail

Southeastern US

The park commemorates the survival of the Cherokee people and their forced removal from their homelands in the Southeastern United States in the 1840s.
Meaher State Park

Spanish Fort

This 1,327-acre park is situated in the wetlands of Mobile Bay and is a day-use picnicking and scenic park with modern camping for overnight visitors. A boat ramp and fishing pier will appeal to every fisherman. A self-guided walk on two nature trails includes a boardwalk with a up close view of the Mobile Delta.
5 Rivers Delta

Spanish Fort

5 Rivers is a field trip destination for students of all ages. With an exhibit hall, learning center, theater, nature trail and boat tours, we specialize in teaching about the Mobile-Tensaw Delta and Alabama's incredible biodiversity. Admission is free 7 days a week, 8am-5pm.
Stevenson Railroad Depot Museum

Stevenson

The Stevenson Railroad Depot Museum is located at the heart of downtown Stevenson, Alabama, situated between the tracks of two major railroads. Its mission is to preserve an important part of railroading history through the display of related artifacts. In addition, the museum, which also chronicles modern times, displays hundreds of artifacts from other parts of the area's past to teach young and old alike, including artifacts recalling Native American culture, pioneer life and Civil War events. The largest of these artifacts is the historic depot building itself. The depot, which was built in 1872 and listed in the National Register of Historic Places, stands on the ruins of Stevenson's first railroad depot, which was built around 1852 for common use by the Nashville & Chattanooga and the Memphis & Charleston Railroads. That original depot was destroyed either during, or shortly after, the Civil War. Bricks salvaged may have been used in the building of the present structure.
Baldwin EMC

Summerdale

Baldwin EMC is a wonderful field trip option for groups of 10 or more. Safety City is electrical safety demonstration using "live" electricity to teach students how to stay safe around electricity! The presentation also covers energy components like conductors, insulators and circuits. Which is a great way to reinforce energy curriculum. Students also have the opportunity to check out the command center, and learn from a lineman. Let your students get information straight from the source. We will bring a bucket truck, PPE and lots of tools, too. Our linemen love to meet students and talk about safety!
Bellingrath Gardens and Home

Theodore

Bellingrath Gardens and Home is pleased to offer educational programs and self-guided workshops for field trips and groups of students. Our facility has excellent resources for teaching plant sciences, ecosystems, wetlands and conservation. We have designed our curriculum to help meet state and local standards for teaching students as they are actively engaged in learning experiences in the Gardens.
Pioneer Museum of Alabama

Troy

A living history classroom for thousands of school children who visit and are fascinated by the various demonstrations conducted. The Hands-on-History Program, funded by Alabama Power Foundation in 2004, was developed by the museum in 1997 to provide an opportunity for students to experience life in a log cabin. Activities include cooking at the wood stove and fireplace, churning butter, fetching water, sweeping the yards with handmade straw brooms, feeding the chickens and gathering eggs, and taking a tour of the museum which includes a spinning and weaving demonstration that goes from making thread from raw cotton all the way to the loom.
Alabama Museum of Natural History

Tuscaloosa

Experience the natural diversity of Alabama through exhibits from the Age of Dinosaurs, the Coal Age, and the Ice Age. View extensive collections of geology, zoology, mineralogy, paleontology, ethnology, history, and photography. Explore the Alabama Museum of Natural History housed in historic Smith Hall, one of the finest examples of Beaux-Arts architecture in the region. See the Hodges meteorite, the only meteorite know to have struck a human.
Children's Hands-On Museum of Tuscaloosa

Tuscaloosa

CHOM's permanent exhibits were designed to stimulate children's curiosity about their community and their place in it, and to involve children, parents, teachers, and others in participatory education. Early exhibits included a Choctaw Indian Village; a historical gallery including a general store, a bank, a print shop, and Grandmother's Attic; a hospital; and a planetarium. Newer exhibits include the replica of the wheelhouse of a towboat; a developmental center for preschoolers called Beavers' Bend; the Japan House; Central Drug; and the Arts Studio. The most recent additions include Once Upon a Farm, Lil' Sprouts Farmer's Market, the Creation Station, a hands-on center for art and creativityand Beyond the Garden Gate.
Mercedes-Benz Visitor Center

Tuscaloosa

This architectural showcase, adjacent to Daimler's only U.S. automobile manufacturing plant, brings to life the company's vision - to produce nothing less than the most exceptional automobiles in the world. Much more than a museum, the Visitor Center's exhibits propel people down a multimedia path through the past, present, and future of automotive technology.
Moundville Archaeological park

Tuscaloosa

Eight hundred years ago, Moundville was the largest city in north America. Experience the winder of the Native American Civilization.
Murphy African-American Museum

Tuscaloosa

Home of 1st licensed Black mortician in west Alabama. Period furniture, irons and kettles, combs and curlers used by African-Americans. Exhibit rooms featuring Murphy family memorabilia, displays on local history, African art and artifacts.
The Old Tavern

Tuscaloosa

The Old Tavern has been a fixture in downtown Tuscaloosa since the time of the capital era. Innkeeper William Dunton built the structure in 1827 three blocks from its current site as a tavern and hotel on the stagecoach route that passed through Tuscaloosa. One of the few remaining nineteenth-century inns in the state,the Old Tavern provides visitors with a rare glimpse of early Tuscaloosa commercial architecture. During its operation as a hostelry, it served as the temporary home and meeting place of legislators, Confederate soldiers, and countless people traveling to or through the city. At one time, it was even the temporary home of of Governor John Gayle (1831-1835).
Paul W. Bryant Museum

Tuscaloosa

Nothing but a winner. That's how he described himself even before he broke the record that made him the "winningest" coach in the history of big-time college football. Even though he is gone, today's University team shares a secret with Coach Paul William "Bear" Bryant. It's knowing what victory demands of you every day of your life.
University of Alabama Arboretum

Tuscaloosa

Maintains plant collections for botanical education and appreciation. The Arboretum features walking trails through a native woodland section, a wildflower garden, a collection of ornamental plants, an experimental garden, and a children's garden. Most of the Arboretum's land was donated by the federal government to help support the University's goals of promoting research and providing public education and service. Today the Arboretum is part of a national network that shares plant information with scientists, students and the public.
Helen Keller Birthplace

Tuscumbia

Ivy Green is the birthplace of Helen Keller.
Alabama Music Hall of Fame

Tuscumbia

The Alabama Music Hall of Fame was a dream to honor all of this state's great music achievers, and to build a facility in which to showcase these talented individuals and their accomplishments.
Tennessee Valley Art Association

Tuscumbia

TVAA's education department collaborates with local educators to develop programs for our exhibits, workshops, festivals and plays that offer students museum and theatrical educational experiences. To name a few - Artists in Residence places artists into the schools to demonstrate their work and lecture on their life experiences, Southeastern Native American Educational Trunks loaned to classrooms aid the elementary teacher in educating pupils about the first inhabitants of the southeastern United States, Lifeways demonstrations on the grounds of the Art Center create a hands-on approach to history and Time Out for Theatre productions present a live theatrical experience for students based on stories they read in the classroom.
Tuskegee Airmen National Historic Site

Tuskegee

In the 1940's Tuskegee, Alabama became home to a "military experiment" to train America's first African-American military pilots. In time the "experiment" became known as the Tuskegee Experience and the participants as the Tuskegee Airmen. Come share their experience!
Tuskegee Institute National Historic Site

Tuskegee

On the campus of historic Tuskegee University. The site includes the George W. Carver Museum and The Oaks, home of Booker T. Washington.
Tuskegee Human and Civil Rights Multicultural Center

Tuskegee

The Tuskegee Human and Civil Rights Multicultural Center preserves the Tuskegee history in Alabama. Tuskegee, well known as the training site of the Tuskegee Airmen, is lesser known as the birthplace of Rosa Parks.

Tuskegee Human and Civil Rights Multicultural Center website
Rickwood Caverns

Warrior

Experience the thrill of Rickwood's miracle mile of underground caverns! The 260 million-year-old limestone formations, blind cave fish and underground pool are just a few of the natural wonders exhibited in the colorful cavern. The park features an Olympic-size swimming pool, snack bar, picnic area, large and small picnic shelter, hiking trails, playground, campground and gift shop.
Fort Toulouse-Fort Jackson State Historic Site

Wetumpka

The 165-acre park, operated by the Alabama Historical Commission, is open year-round for the public's enjoyment where you can step back in time, wandering through the French and American forts or walking to the Mississippian Mound site. You may choose to visit the William Bartram Nature Trail, named for the famed 18th century botanist. The trail winds through the southern edge of the park to the Tallapoosa River. Browse the bookstore and museum in the Graves House, with archaeological collections featuring French colonial, early American and prehistoric Indian items.
Cathedral Caverns

Woodville

The first thing you notice about Cathedral Caverns is the massive entrance. The huge opening measures 126 feet wide and 25 feet high. And it gets even better. Inside the cavern, you will find Big Rock Canyon, Mystery River and some of the most beautiful formations Mother Nature has ever created. Among them, you will see Stalagmite Mountain, The Frozen Waterfall and Goliath, a huge stalagmite column that reaches the ceiling of the cave some 45 feet above! Cathedral Caverns is the perfect field trip for your school, church or other group. You can visit anytime, as the cave maintains a comfortable 60-degree temperature year round. Call and make plans today and you will see why we are excited about Alabama's newest state park!