Field trips are a great way to reboot a bad homeschooling week, get out of the house when everyone has cabin fever, and learn about your local area. Before heading out, check out Jeanne's tips for improving homeschool field trips.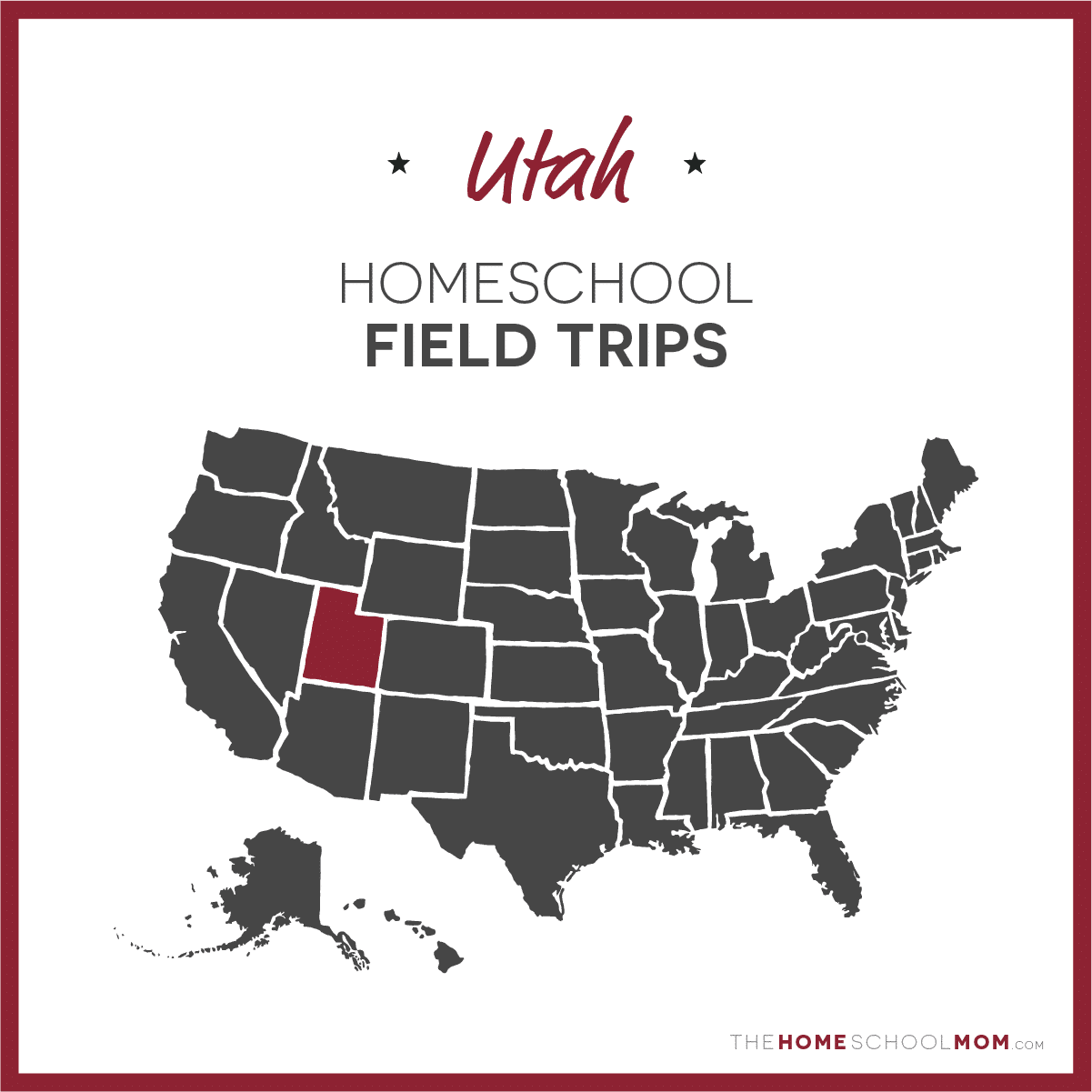 Submit a Field Trip Destination
Our listing of Utah field trips for homeschoolers is ordered alphabetically by city. If you would like to submit a Utah field trip destination, you may do so using the red button above.
An asterisk * after the title indicates that a virtual field trip is also available.
California National Historic Trail

More than 250,000 gold-seekers & farmers crossed into to the gold fields & rich farmlands of California during the 1840's and 1850's. 1,000 miles of trail ruts and traces can still be seen to remind us of early American travelers and settlers.
Pony Express National Historic Trail
Timpanogos Cave National Monument

American Fork

Timpanogos Cave National Monument sits high in the Wasatch Mountains. The cave system consists of three spectacularly decorated caverns. Helictites and anthodites are just a few of the many dazzling formations to be found in the many chambers. As visitors climb to the cave entrance, on a hike gaining over 1,000 ft in elevation, they are offered incredible views of American Fork Canyon
Otter Creek State Park

Antimony

This quiet getaway is a great destination for ATV riders, boaters, and birders. Access three ATV trails, including Paiute, directly from the park. Lure a record catch from Otter Creek Reservoir, a prime fishery. Go birding during spring and fall as many bird species through the park on their journey along the Pacific Migratory Bird Flyway.
Piute State Park

Antimony

Resting on cliffs of the Sevier Plateau, Piute Reservoir attracts anglers who enjoy trophy fishing for rainbow, cutthroat, and brown trout. This primitive park is a quiet getaway and a well-kept secret.
Edge of the Cedars State Park Museum

Blanding

View the largest collection of Ancestral Puebloan (Anasazi) pottery on display in the Four Corners Region and explore an authentic Puebloan village behind the museum. In addition to permanent collections, Edge of the Cedars offers special exhibits, festivals, and events throughout the year. Dynamic exhibits at Edge of the Cedars State Park Museum feature outstanding photography, fine art, current topics in archeology, and contemporary Native American crafts. Festivals, programs and special events promote traditional values through storytelling, craft workshops, and an Indian art exhibit.
Goosenecks State Park

Blanding

Gaze at the results of 300 million years of time, where the San Juan River winds and carves its way through the desert 1,000 feet below. This primitive park offers a spectacular view of this amazing and rare geologic formation, known as an entrenched meander. Goosenecks State Park offers picnic areas, primitive camping, vault toilets, and an observation shelter. No drinking water is available.
Anasazi State Park Museum

Boulder

This ancient village in the heart of Utah's canyon country was one of the largest Ancestral Puebloan communities west of the Colorado River. Now called the Coombs Site, it is believed to have been occupied from AD 1160 to 1235 and may have housed as many as 200 people. Archeological excavations at the site have revealed more than 100 structures and have produced thousands of artifacts, some of which are on display in the museum. In addition to museum collections, visitors may also explore the Coombs Site, located directly behind the museum. Anasazi State Park Museum offers a museum store, auditorium, and outdoor picnic areas.
Golden Spike National Historic Site

Brigham City

Golden Spike National Historic Site commemorates the completion of the first transcontinental railroad.
The Brigham City Fine Arts Center

Brigham City

We are a non-profit organization dedicated to promoting and providing (affordable) fine arts opportunities for youth and families in the community. We offer after school and evening classes in art, youth choir, theater, drawing, puppetry, and photography. We also offer a variety of community activities including: theater productions, puppet story time for preschoolers, periodic concerts and comedy nights, a Puppet Museum with special family activity times, recital space, and a monthly Open Mike night.
Kodachrome State Park

Cannonville

Geologists believe Kodachrome Basin State Park was once similar to Yellowstone National Park with hot springs and geysers, which eventually filled up with sediment and solidified. Through time, the Entrada sandstone surrounding the solidified geysers eroded, leaving large sand pipes. Sixty-seven sand pipes ranging from two to 52 meters have been identified in the park. Massive sandstone chimneys, change from gray and white to shades of red depending on the day's mood. Numerous rocks and coves offer solitude, quiet and unique desert beauty.
Frontier Homestead State Park Museum

Cedar City

Frontier Homestead State Park Museum tells the story of development in Iron County when in the 1850s, Brigham Young sent Mormon missionaries here to mine and process iron. Museum displays include horse-drawn vehicles used from 1850 to 1920 and a collection of pioneer artifacts. An iron industry exhibit features the only known remaining artifact from the original foundry - the town bell. In addition to the permanent collections, changing special exhibits highlight artists from the local region, as well as rarely seen artifacts from the museum's collections. Other items of interest include several historic cabins, a large collection of horse-drawn farm equipment, and a replicated pioneer household.
Cedar Breaks National Monument

Cedar City

Resting on top of the Colorado plateau, at over 10,000 feet in elevation, this breathtaking view awaits. Millions of years of sedimentation, uplift, and erosion are carving out this giant amphitheater, that spans some three miles, and is more than 2000 feet deep.
Summit County Historical Museum

Coalville

Escape from the modern day and reminisce with Summit County's early ancestors.
Hovenweep National Monument

Cortez

Hovenweep National Monument protects six prehistoric, Puebloan-era villages spread over a twenty-mile expanse of mesa tops and canyons along the Utah-Colorado border. Multi-storied towers perched on canyon rims and balanced on boulders lead visitors to marvel at the skill and motivation of their builders. Hovenweep is noted for its solitude and undeveloped, natural character.
Dinosaur National Monument

Dinosaur

As you explore the craggy hills, discover fragments of a long ago world where the largest land creatures of all time once roamed and died. While the main exhibit wall of dinosaur fossils is closed, some fossils can be seen by hiking 1/2 mile from the Temporary Visitor Center. You can also view rock art and captivating scenery, explore homestead sites, and go whitewater rafting.
Starvation State Park

Duchesne

The sprawling waters of Starvation Reservoir offer great fishing and boating. Find a secluded campsite at one of four primitive campgrounds and one developed campground. Bring your off-highway vehicle and ride on nearby trails.
Escalante Petrified Forest State Park

Escalante

Escalante Petrified Forest State Park is located in beautiful southern Utah, just 44 miles east of Bryce Canyon National Park. Hike along park nature trails through a petrified forest, camp along the shores of Wide Hollow Reservoir, or rent a canoe and paddle on its clear waters. View fossils, petrified wood, fossilized dinosaur bones, and artifacts left by ancient Fremont Indians who inhabited this area nearly 1,000 years ago.
Camp Floyd/Stagecoach Inn State Park

Fairfield

Camp Floyd / Stagecoach Inn State Park Museum is Utah's link with the Civil War. The quiet streets of Fairfield hold the secrets of 3,500 troops, nearly one-third of the entire U.S. Army at that time, which were brought to Camp Floyd to suppress the rumored rebellion in Utah. With no rebellion taking place, the troops were recalled in 1861 with the outbreak of the Civil War. The historic Fairfield District Schoolhouse is available for school groups to enjoy an authentic one-room schoolhouse experience. Other groups may rent the historic building for meetings and other gatherings. Fairfield School was constructed in 1898 with federal funds received when Utah became a state in 1896.
Territorial Statehouse State Park Museum

Fillmore

Territorial Statehouse in Fillmore is Utah's oldest existing governmental building. In anticipation of Utah's statehood, early pioneer Brigham Young directed construction of the building as the state's capitol. Only the south wing was ever completed. The existing portion was finished in time for the December 1855 meeting of the Territorial Legislature, which was the only full session held in the old statehouse. In December 1858, the seat of government was returned to Salt Lake City. Territorial Statehouse State Park Museum offers a museum store, and auditorium. Also, an All-American Rose Society Garden and picnic area adjoin the museum. Two restored pioneer cabins and an 1867 stone schoolhouse are also located on the grounds.
Fort Douglas Military Museum

Fort Douglas

The mission of the Fort Douglas Museum is to collect, preserve, and interpret the history of Fort Douglas and its impact on the history of Utah and the adjacent Western states.
Bear Lake State Park

Garden City

Bear Lake State Park is nestled high in the Rocky Mountains on the Utah-Idaho border. The cool, Caribbean-blue waters of Bear Lake are ideal for waterskiing, swimming, scuba diving, and sailing. Anglers enjoy year-round fishing for cutthroat, mackinaw, cisco, and whitefish. Bear Lake State Park offers three recreation areas: Rendezvous Beach, Bear Lake Marina, and East Beach. The park also hosts many annual events, such as a Mountain Man Rendezvous and Bear Lake Raspberry Days.
St. George Art Museum

George

The Mission of the St. George Art Museum is to educate all visitors through quality exhibitions from all periods, cultures, and media, as well as to collect, conserve, inventory, exhibit, and interpret art and artifacts from Utah and the West.
Goblin Valley State Park

Green River

The vast landscape of sandstone goblins may have visitors wondering if they're in Mars or Utah. The movie, Galaxy Quest, was filmed at Goblin Valley State Park because of its unearthly scenery. Scores of intricately eroded creatures greet visitors to Goblin Valley. Hike among intricately eroded rock formations in haunting coves. Adjacent to the park, off-highway vehicle enthusiasts will find hundreds of miles of dirt roads to explore.
Green River State Park

Green River

Rest under a canopy of cottonwood trees or accept the challenge of a nine-hole golf course on the banks of the Green River. The park is a starting point for boaters adventuring through Labyrinth and Stillwater canyons. Annual events include the 184-mile Friendship Cruise and Melon Days.
John Wesley Powell River History Museum

Green River

This museum takes visitors back to the formation of the Green River and the days of the Wild West. Southern Utah was one of the wildest areas in the United States. The museum gives a glimpse into one of the last unexplored areas of the West.
Jordanelle State Park

Heber City

Jordanelle State Park is located in a picturesque mountain setting near Heber City. The park offers an array of recreation opportunities near the Wasatch Front. Camping, boating, swimming, fishing, and hiking are some of the activities to do at this very popular park. The park offers two recreation areas, Hailstone and Rock Cliff.
Hill Aerospace Museum

Hill AFB

As a field museum of the United States Air Force Museum System, the mission of Hill Aerospace Museum is to portray the history of Hill Air Force Base, its tenant organizations, and the assignments of the Ogden Air Logistics Center.
Huntington State Park

Huntington

Cinnamon-colored buttes provide a backdrop for this quiet desert oasis. Popular with locals, this warm-water reservoir is ideal for waterskiing, fishing, and crawdad catching. Huntington is a great weekend destination or a perfect picnic spot.
Millsite State Park

Huntington

Camp in the quiet campground, and boat and fish on the blue waters of Millsite Reservoir. Play 18 holes on a nearby golf course or bring off-highway vehicles and mountain bikes to enjoy miles of trails in nearby Ferron Canyon.
Scofield State Park

Huntington

Camp, boat, and fish at this summer and winter recreation destination situated high in the Manti-LaSal Mountains. During winter, ice fish, snowmobile, and cross-country ski in a spectacular mountain setting. Three separate areas offer amenities for day and overnight use.
Gunlock State Park Gunlock State Park

Hurricane

In scenic red rock country, lies Gunlock Reservoir where year-round boating, water sports and quality fishing for bass and catfish attract visitors. The reservoir is rimmed with ponderosa pine and trails leading to alpine meadows and pine forests. A mild winter climate makes Gunlock State Park a year-round destination.
Quail Creek State Park

Hurricane

Boasting some of the warmest waters in the state and a mild winter climate, Quail Creek Reservoir lures boaters and anglers year-round. Spend a day on the water or visit a nearby state or national park, then retire to a campsite in a spectacular red rock desert setting.
Sand Hollow State Park

Hurricane

With its warm, blue waters and red sandstone landscape, Utah's newest state park is also one of its most popular. Boat and fish on Sand Hollow Reservoir, explore and ride the dunes of Sand Mountain on an off-highway vehicle, then RV or tent camp in the new campground.
Hyrum Lake State Park

Hyrum

Tucked away in Cache County, Hyrum State Park offers many recreation opportunities including fishing, boating, and camping. Surrounded by tall, shady trees, Hyrum provides an excellent place for an afternoon picnic, or spend the whole weekend trolling on the lake catching yellow perch, rainbow trout, bluegill, and largemouth bass.
Snow Canyon State Park

Ivins

Contrary to its name, winter visitors will rarely find any "white stuff" at this 7,400-acre desert park. Named after Lorenzo and Erastus Snow, early Utah leaders, Snow Canyon offers 16 miles of hiking trails, technical rock climbing, horseback riding, year-round camping, nature studies, wildlife viewing, and photographic opportunities galore. All of this is set against a stunning backdrop of towering sandstone cliffs in red and white, and peaks and valleys of jumbled black lava rock interspersed with serpentine sandy washes.
Coral Pink Sand Dunes State Park

Kanab

Rippling arcs of rust-colored sand welcome you as you enter Coral Pink Sand Dunes State Park. Contrasted by blue skies, juniper and pinion pines, and steep red cliffs, the park is a wonderful place for camping, photography, off-highway vehicle riding, and playing in the sand. As the only major sand dune field on the Colorado Plateau, this park is a unique geologic feature that should not be missed.
Kanab's Heritage House

Kanab

This 1895 Queen-Anne-Style Victorian house demonstrates the prosperous lifestyle of Kanab's early Mormon residents. A guide will show you around the house and explain all is architectural details, giving you an idea of what life was like in early Kanab through photos, furnishings, and artifacts. Since there were no stores in town when the house was built, the complex has its own vegetable and fruit trees and gardens. A glimpse of pioneer-era life in the heart of Utah's Dixie
Natural Bridges National Monument

Lake Powell

Natural Bridges preserves some of the finest examples of natural stone architecture in the southwest. On a tree-covered mesa next to deep sandstone canyons, three natural bridges formed when meandering streams slowly cut through the canyon walls. In honor of the Native Americans that made this area their home, the bridges are named "Kachina," "Owachomo" and "Sipapu."
SeaQuest Utah

Layton

Make learning fun and engaging at SeaQuest as students interact with animals from all over the planet and learn about behind-the-scenes operations at an aquarium. SeaQuest Field trips are guided group tours led by a team of marine and environmental educators. SeaQuest provides enhanced, age-specific Field Trip adventures for learners of all ages. Experience fun, hands-on learning when you feed and touch saltwater stingrays, hold reptiles and take a walk through the bird aviary. Homeschool field trip groups receive special pricing on Mondays!
Flight Park State Recreation Area

Lehi

Utah State Parks and Recreation and the Utah Hang Gliding and Paragliding Association (UHGPGA) are partnering to preserve this unique recreation area that is an excellent site for teaching and gathering experience for flyers of all levels. It is known worldwide as one of the best training sites for both paragliding and hang gliding. Flight Park State Recreation Area is being jointly managed by Utah State Parks and Recreation and the Utah Hang Gliding and Paragliding Association. Please visit the UHGPGA website for more information about flying safety and requirements: www.uhgpga.org.
Yuba State Park

Levan

The sprawling waters of Yuba State Park provide a variety of recreation opportunities for visitors. Warm water and sandy beaches, along with nearby off-highway vehicle riding areas, lure visitors during summer months. One of the few state parks with boat-in camping, Yuba is very popular with water recreationists.
Zootah at Willow Park

Logan

Zootah at Willow Park Zoo focuses on education, conservation, scientific study, and offers recreation through its services to all patrons. The Zoo maintains a very popular story time program, conservation-oriented on-site and outreach education programs that involve over 10,000 students each year. The 9-acre zoo displays a variety of animals native to North America as well as some exotic species from around the world.
Stokes Nature Center

Logan Canyon

Stokes Nature Center (SNC) is a non-profit organization whose mission is to provide opportunities for students of all ages to explore, learn about, and develop appreciation and stewardship for our natural world.
Midvale Museum

Midvale

Did you know we have a hometown astronaut? Have you ever had to do your laundry in a bucket? Have you seen the SandLot? Part of that movie was filmed in Midvale! We have a lot of items from early pioneer life, and historic mining. We have a museum in Midvale, located in Midvale City Park. It is free to attend, kid friendly. Our usual hours at 12-4 Tuesday, Wednesday and Saturday. There is no fee for this field trip opportunity. (we are volunteer run, and accept donation.) For special arrangements outside of these hours, you may email midvalemuseum@gmail.com or call 801-567-7285.
Deer Creek State Park

Midway

Deer Creek State Park lies in the southwest corner of beautiful Heber Valley and consistently provides some of Utah's finest year-round fishing. Beautiful Deer Creek reservoir is extremely popular for boating, wind surfing, sunbathing, swimming, and sailboating.
Wasatch Mountain State Park

Midway

Year-round adventure awaits - golf, hike, bike, camp, horseback ride, snowmobile, cross-country ski, and snowshoe at Wasatch Mountain. During warmer months, reserve a tee time at the popular Lake and Mountain golf courses. In winter, ski or snowmobile through the alpine terrain.
Wasatch Mountain State Park

Midway

Located in Wasatch Mountain State Park, Huber Grove is one of the area's best examples of early pioneer life. Huber Grove history is rich with culture, architecture and natural beauty. Huber Grove is a beautiful and peaceful gathering place. Plan your trip to coincide with guided tours or attend the annual apple harvest of the 100-year-old orchard. Take a video tour of Huber Grove and learn about Johannes Huber, for whom this area is named. Located in the northwest corner of the town of Midway, off US 40.
Dead Horse Point State Park

Moab

Stroll along the Rim Walk, towering 2,000 feet directly above the Colorado River. The mesa that is Dead Horse Point provides breathtaking views of the canyon country of southeastern Utah and the pinnacles and buttes of Canyonlands National Park. The Legend of Dead Horse Point: Cowboys corralled wild mustangs on the Point, then chose the horses they wanted. One time, for some unknown reason, horses were left corralled on the waterless point where they died of thirst.
Arches National Park

Moab

Arches National Park preserves over 2,000 natural sandstone arches, like the world-famous Delicate Arch, as well as many other unusual rock formations. In some areas, the forces of nature have exposed millions of years of geologic history. The extraordinary features of the park create a landscape of contrasting colors, landforms and textures that is unlike any other in the world.
Canyonlands National Park

Moab

Canyonlands preserves a colorful landscape eroded into countless canyons, mesas and buttes by the Colorado River and its tributaries. The rivers divide the park into four districts: the Island in the Sky, the Needles, the Maze and the rivers themselves. While these areas share a primitive desert atmosphere, each retains its own character and offers different opportunities for exploration.
Goulding's Lodge

Monument Valley

The museum is housed in the original Trading Post and home of Harry and 'Mike" Goulding. Mr. and Mrs. Goulding were lifelong friends of the Navajo people. Harry brought movie director John Ford to Monument Valley to see the landscapes and the rest is movie making history. Visit a movie set from "She Wore a Yellow Ribbon" or walk back in time with this wonderful collection of movie making memorabilia and Indian artifacts. Monument Valley is still used for movie and commercial filming today.
East Canyon State Park

Morgan

East Canyon State Park is a 680-acre boating and year-round fishing delight nestled in the mountains northeast of Salt Lake City. Although popular with water recreationists, East Canyon is also an attraction for history buffs. Nearby trails mark the steps of the Donner Party and the first Mormon settlers.
Maynard Dixon Home and Studio

Mt. Carmel

Come to Southern Utah and see the home that Maynard Dixon and his wife Edith built, walk the mountain trails where Dixon spent quiet, reflective moments, and experience beautiful views that are called "Maynard Dixon Country."
Mormon Pioneer National Historic Trail

Nauvoo, IL to Salt Lake City, UT

70,000 Mormons, led by Brigham Young, traveled from Nauvoo, Illinois, to Salt Lake City, Utah between 1846 to 1869 in order to escape religious persecution.
North Ogden Historical Museum

Ogden

The purpose of the museum is to educate and bring awareness to the community of the rich heritage we share, to collect, perserve and display items of historical significance for the people of North Ogden, and to find permanent housing for these items.
Treehouse Museum

Ogden

Treehouse Museum is a nonprofit educational organization whose mission is to be the magical place where children and families "Step Into a Story."
Ogden's Union Station

Ogden

Ogden's Union Station is a monument to Ogden City's railroading history. It is a symbol of the cultural and economic changes brought to the West by the completion of the transcontinental railroad. Though it is no longer a train depot, the Station continues to attract people from all over the world. Most come to see the John M. Browning Firearms Museum and the Utah State Railroad Museum/Eccles Rail Center with its display of two of the largest locomotives ever manufactured anywhere. They stay to see the Natural History Museum and the Browning Kimball Car Museum, to visit Gallery at the Station, to shop at Gifts at the Station or Zephyr Station (model railroad shop), to have lunch at Union Grill and to enjoy the beauty of this old railroad town.
The Noorda Center for the Performing Arts at UVU

Orem

The Noorda Center for the Performing Arts at Utah Valley University provides a wonderful opportunity to expose students to world-class arts events. With all student tickets only $10, the Noorda is a wonderful and economical way to expose students to the arts and deepen their love. Many events are specifically targeting younger audiences.
Orem Heritage Museum

Orem

The museum is an impressive 30,000-piece collection that tells the unique history of the city of Orem through artifacts.
Rainbow Bridge National Monument

Page

Rainbow Bridge is the world's largest known natural bridge. The span has undoubtedly inspired people throughout time--from the neighboring American Indian tribes who consider Rainbow Bridge sacred, to the 300,000 people from around the world who visit it each year.
Historic Union Pacific Rail Trail State Park

Park City

The Historic Union Pacific Rail Trail is a 28-mile non-motorized trail. The trail begins or ends in Park City and follows Interstate 80 through Wanship and Coalville to Echo Reservoir. Activities include hiking, mountain biking, horseback riding, jogging, Nordic skiing and wildlife watching. The Rail Trail is managed by the Mountain Trails Foundation.
Rockport State Park

Peoa

Find first-rate, year-round recreation at this northern Utah destination. During summer, fish, boat, and waterski on Rockport Reservoir. Tent or RV camp in one of five developed and primitive campgrounds. During winter, ice fish and access nearby snowmobile trails.
Utah Lake State Park

Provo

Utah's largest freshwater lake provides fishing access for channel catfish, walleye, white bass, black bass, and several species of panfish. Spend an evening RV or tent camping, then powerboat, canoe, or sail the day away on Utah Lake.
Great Salt Lake State Marina

Salt Lake City

Great Salt Lake State Marina offers spectacular views of sunsets over the Great Salt Lake, a search and rescue operations center, and provides marina access for sailors, sculling enthusiasts, other boaters, and bird watchers. A remnant of ancient Lake Bonneville, the Great Salt Lake covers more than 2,000 square miles and is two to seven times saltier than the ocean. The lake attracts more than 257 species of birds, depending on the season, and is a major stop for millions of migratory birds.
Jordan River OHV Park and Modelport

Salt Lake City

Four separate tracks, with tabletops and banked turns, are open from approximately early April to approximately mid-October. Off-Highway motorcycle riders will enjoy two motocross tracks. The novice and grand-prix tracks are open to both OHMs and ATVs.
This is the Place Heritage Park

Salt Lake City

Journey back in time at Old Deseret Village, a collection of more than 40 historic homes and buildings brought to life by historical interpreters. Visit This Is The Place Monument, which marks the end of the 1,300-mile Mormon trail. This Is The Place Foundation, a nonprofit organization, manages the park. For more information and for current events, please visit www.thisistheplace.org.
Discovery Gateway Children's Museum

Salt Lake City

Discovery Gateway STEAM-Guided field trips encourage students to discover, explore and create with interactive, hands-on exhibits with the assistance of a Museum Imagination Facilitator. Each exhibit features age-appropriate elements that tie into Utah's Core Curriculum Standards.
Chase Home Museum of Utah Folk Art

Salt Lake City

The Chase Home Museum of Utah Folk Arts is the only museum in the country dedicated to displaying a state-owned collection of contemporary folk art. It features objects made by living Utah artists from the state's American Indian, rural, occupational and ethnic communities offering a snapshot of Utah's contemporary culture and heritage. The Chase Home, built more than 150 years ago in a traditional hall-and-parlor style from adobe bricks, is a fine example of 19th century folk art.
Utah Museum of Fine Arts

Salt Lake City

UMFA programs and tours will spark curiosity and creativity for visitors of all ages. Enjoy roaming the galleries on your own, hands-on art projects for the whole family, lectures, films, or informative docent-led tours.
Utah Museum of Natural History

Salt Lake City

The Utah Museum of Natural History offers a range of programs that foster an understanding of the natural world and earth science.
Fremont Indian State Park and Museum

Sevier

Discover artifacts, petroglyphs, and pictographs left behind by the Fremont Indians. During construction of Interstate 70, the largest known Fremont Indian village was uncovered. This museum preserves treasures from the site, including pottery, baskets, and arrowheads. Spend a day at the museum, and then camp at nearby Castle Rock Campground.
Old Spanish National Historic Trail

Southwestern US
Zion National Park

Springdale

Utah's First National Park - Massive canyon walls ascend toward a brilliant blue sky. To experience Zion, you need to walk among the towering cliffs, or challenge your courage in a small narrow canyon. These unique sandstone cliffs range in color from cream, to pink, to red. They could be described as sand castles crowning desert canyons.
Springville Museum of Art

Springville

The Springville Museum of Art is a historic museum with work from local Utah artists, as well as nationally and internationally renowned artists. There are no admission fees, but donations are encouraged. All ages are welcome, and large groups can make reservations for guided tours. They also now offer free virtual field trips using an interactive virtual tour! It's the next best thing to physically being inside the galleries.
Grand Canyon-Parashant National Monument

St. George

Grand Canyon Parashant's natural splendor provides a sense of solitude to those who venture into its isolated domain. Located on the edge of one of the most beautiful places on earth, the Grand Canyon, the Monument's expansive landscape encompasses a chronicle of natural and cultural history.
Palisade State Park

Sterling

Play 18-holes of golf, paddle or troll on Palisade Reservoir, then set up the perfect campsite. This park offers something for everyone, from its desert canyon golf course, RV and tent camping, to access for off-highway vehicle riding in nearby Six-Mile Canyon.
Antelope Island State Park

Syracuse

Antelope Island State Park, the largest island in the Great Salt Lake, is home to a roaming herd of 500 bison. Pronghorn and bighorn sheep also share the rangelands that overlook the desert lake. Opportunities to view wildlife are available on backcountry trails, which are open to horseback riding, mountain biking, hiking and cross-country skiing. A visitor center offers information on the island's unique biology, geology and history.
Capitol Reef National Park

Torrey

The Waterpocket Fold, a 100-mile long wrinkle in the earth's crust known as a monocline, extends from nearby Thousand Lakes Mountain to the Colorado River (now Lake Powell). Capitol Reef National Park was established to protect this grand and colorful geologic feature, as well as the unique natural and cultural history found in the area.
Red Fleet State Park

Vernal

Hike to 200-million-year-old dinosaur tracks, boat and fish on Red Fleet Reservoir, and camp or picnic in a campground overlooking a sandstone and desert landscape. In the heart of Dinosaurland, Red Fleet is a destination in itself and great location for discovery of the area.
Steinaker State Park

Vernal

Fish for rainbow trout and largemouth bass, and enjoy sandy beaches, swim, boat, and waterski at Steinaker Reservoir. Select a secluded campsite overlooking the water and under the skies of Dinosaurland.
Utah Field House of Natural History

Vernal

So much time is revealed here, even more geologic time than in the Grand Canyon. Within an 80-mile radius of Vernal, evidence of the entire Earth's history is visible. At its center is the Utah Field House of Natural History State Park Museum. The new museum is located two blocks east of the old Field House, a 22,000-square foot structure to preserve and reveal the wealth of prehistory found within the Uinta Basin. Outside the museum, and providing the greatest appeal to passing visitors, is the Dinosaur Garden, a prehistoric zoo of full-size replicas ranging in age from Pennsylvanian through Pleistocene. The garden includes a 20-foot Tyrannosaurus with six-inch, knife-like teeth, a horned Triceratops, six-ton Stegosaurus, winged Pteranodon and other full-size prehistoric animal replicas.
Conservation Garden Park

West Jordan

The Conservation Garden Park showcases beautiful, waterwise landscapes ideal for northern Utah. Learn about newly finished exhibits that teach homeowners how to design, build, or retrofit their landscapes to be more water-efficient.
Willard Bay State Park

Willard

Boat, swim, waterski, and fish on the warm waters of Willard Bay. Camp under tall cottonwood trees that frame the night sky. During winter months, Willard Bay is a wildlife watching area for nesting eagles. Two areas, North and South Marinas, offer all the amenities for a weekend at the Bay.